SINGAPORE, 13 November 2023: Attending the World Travel Market (WTM) 2023 for the first time, Trip.com Group is making inroads, capturing market share in Europe and reshaping the transformative role of artificial intelligence in the booking process.
Held last week in London, the WTM provided a platform for Trip.com Group to articulate its vision of reshaping the travel experience with advanced AI technology and solidifying its position as an emerging key player in the European travel market.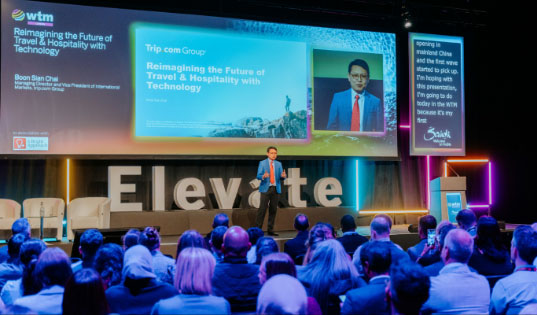 Trip.com Group managing director and vice president for international markets Boon Sian Chai took centre stage at the WTM Technology Summit, presenting the pivotal role AI plays in revolutionising the travel sector, enhancing customer service through intelligent chatbots, and improving overall service experiences while also providing insights on the resurgence of outbound travel from China.
The introduction of TripGenie, Trip.com Group's AI assistant, earlier this year marked a significant enhancement in the company's technology suite. TripGenie has improved user engagement and conversion rates by personalising travel experiences and simplifying travel planning. The group plans to enhance TripGenie's features further, augmenting its capability to provide bespoke travel arrangements.
"Our AI-driven tools, such as our curated travel lists, Trip.Trends and Trip.Best, transcend mere technological evolution," Chai stated. "They foster a sense of community and enrich the travel experience, adding a personal touch to each journey our customers undertake."
Chai highlighted the impressive impact of "Trip.Best," which has markedly increased traffic and bookings for partner hotels, and the success of "Trip Moments," which has actively involved a substantial segment of the app's users in creating and sharing content. The Group's strides in AI for customer service, celebrated for their accuracy in understanding user queries and high rates of resolving inquiries autonomously, have further cemented their dedication to improving customer interactions.
Influencing growth in the European Market
Although still in the growth stage across Europe, Trip.com Group's booking data reveals a significant uptick in travel activity from Europe, with the UK experiencing a 67% increase in flight bookings and a 62% rise in hotel reservations from 2022 to 2023. This figure dramatically eclipses pre-pandemic levels registering 604% growth in flights compared to 2019. Similar upward trends are evident across other key European markets, including Germany, France, Spain, and Italy, which collectively have seen a 40% rise in flight bookings and a 60% increase in hotel bookings year over year.