KUCHING, 2 October 2023: What About Kuching (WAK) is back for month-long festivities in the heart of Kuching City, kicking off on 1 October to mark Sarawak's 60th Anniversary of Independence celebrations.
With the tagline 'Celebrate Arts, Culture and Lifestyle' for the WAK 5th edition, 38 performers and celebrities from Sarawak, Sabah, Peninsula Malaysia, with international participation from Scotland, will showcase talents across 40 events spanning music, dance, theatre, arts, crafts and gastronomy.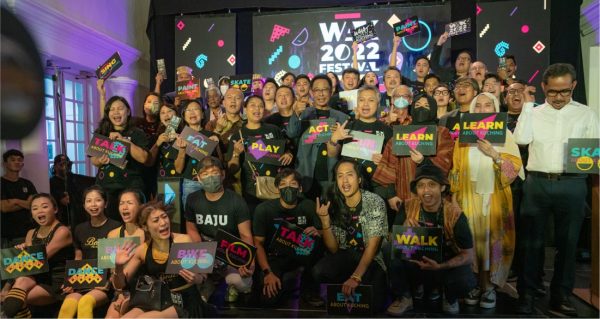 For the full itinerary of What About Kuching, log on to www.aboutkuching.com to download its digital calendar programme or catch the festival's updates at @aboutkuching on Facebook, Instagram and Youtube.
Driven by its guiding principle, "By the Community, For the Community, WAK aims to become one of the largest open-access festivals in Asia in the years to come. Through such a platform, local artists can aspire to world-class standards in their respective genres as they showcase and perform alongside world-class talent.
Creative and performing arts enthusiasts will participate in many events leading up to the finale on 31 October 2023. One of the highlights is the workshop series led by musical theatre performer Abel Law, who has performed as "Montparnasse" for the 'Les Misérables' musical at the Sondheim Theatre. Another is the 'Acoustic Guitar Artistry: An Interactive Workshop' by guitar maestro Az Samad.
The spotlight also shines on the Tuak Crafting Workshop, Haunterland, Hip-Hop Night (All Eyes on Us), Ani-Fiesta 2023, An Evening of Songs, Enchanting Fitness: Ballet Fusion & Barre Magic, 'An Evening of Songs' with the Dolce Chanticleer Choir, a Masterclass on production with Belle Sisoski, 'Colours of Life' organic tie-dye and beads-making activities for kids, 'Pour Over' coffee brewing workshop, Padawan Raft Safari and many more.
About WAK
WAK is an annual festival celebrating arts, culture, and lifestyle in Kuching, Sarawak, with a mission to promote these elements to a global audience. 
Visit www.aboutkuching.com.
Sarawak Happenings in October- November 2023
A string of events will take place across Sarawak from October to November.
Kuching Marathon (KM) returned for its eighth edition on 1 October, attracting 11,000 domestic and international participants across its four categories.
The Borneo Trail Classic 2023 in Bau takes place on 7 October as the seventh stop of the Spartan Trail World Championship under the Spartan Trail brand, where racers from all across the world will compete in its 50KM, 21KM, 10KM & 7KM categories.
The Sarawak International Dragon Boat Regatta takes place from 27 to 29 October, and the Sarawak Regatta from 3 to 5 November 2023.
For more information on Sarawak visit www.sarawaktourism.com.