DOHA, 23 August 2023: Centara West Bay Hotel & Residences Doha, a leading Thai hospitality brand in the heart of Qatar, has won the esteemed Haute Grandeur Global Awards 2023 in three categories.
The prestigious award, renowned for recognising excellence in the hospitality industry worldwide, honoured the property with three highly acclaimed accolades, reinforcing Centara West Bay's position as a leading destination for discerning travellers.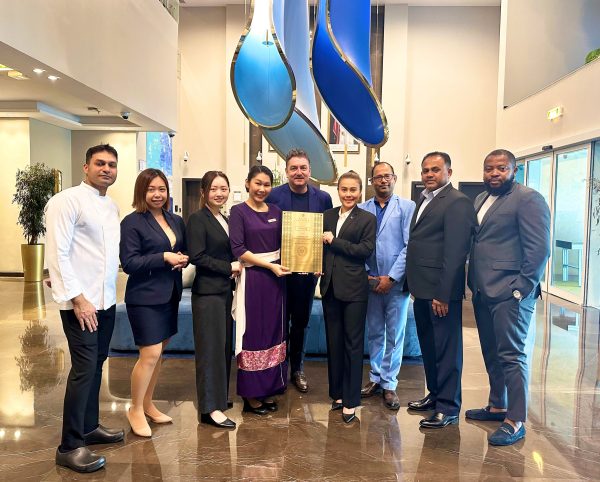 Excellence Award for Best Apartment Hotel on a Global Level
Excellence Award for Best Hotel Residences in Qatar
Excellence Award for Best Luxury Hotel Apartments in Qatar
These esteemed awards reflect Centara West Bay's unwavering dedication to providing its guests with luxurious accommodation, Thai hospitality and five-star service.
In Centara West Bay Hotel & Residences, general manager Sean Spinks commented, "We are truly grateful and humbled to be recognised as one of the best luxury hotel apartments globally.
"Our team has consistently demonstrated a commitment to service excellence, resulting in this outstanding achievement within Qatar and globally. This recognition would not have been possible without our valued guests' unwavering support and our remarkable team's dedication. Centara West Bay stands as The Place To Be in Doha."
Located in Doha's business district, with easy access to shopping, cultural sights and tourist attractions, Centara West Bay is a short walk from the metro, Corniche, City Center and North West Bay Beach, accessible directly from the hotel via the treelined Boulevard.
Large spaces, modern decor, stunning views, and an array of international dining specialities from award-winning restaurants highlight the hotel's fully furnished apartments. The affordable luxury apartments boast spacious bedrooms, living and dining rooms, with well-equipped kitchens that make the hotel ideal for every individual, family, and traveller on extended stays in Qatar.
(Source: Centara West Bay Hotel & Residences Doha.)