KUALA LUMPUR, 31 August 2023: The Malaysian Association of Tour and Travel Agents (MATTA) will host the much-anticipated MATTA Fair, now in its 53rd edition, from 1 to 3 September 2023 at the Malaysia International Trade and Exhibition Centre (MITEC).
MATTA Fair September 2023 will occupy a staggering 37,000 square metres of space across eight halls, featuring an impressive lineup of 1,367 exhibition booths. With 307 participating organisations, including 199 travel and tour agencies, 12 National Tourism Organizations, seven State Tourism Offices, 44 hotels and resorts, eight theme parks, three airlines, and 34 other travel-related service exhibitors, visitors can expect a comprehensive and diverse showcase of travel and tourism offerings.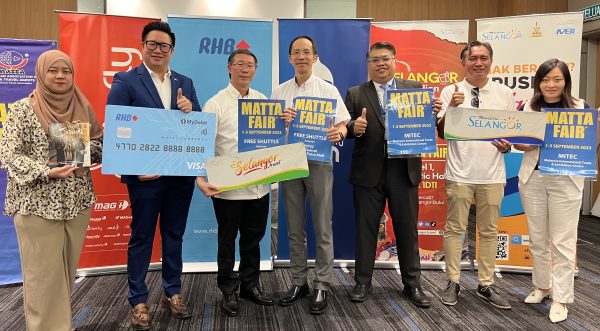 "This year, MATTA Fair introduces a new horizon of segmentation in the domestic hall. With categories like state, hoteliers, and free zone, the fair aims to showcase how this strategy will stimulate the growth of local domestic tourism stakeholders. This segmentation highlights the diversity of domestic offerings and underscores our commitment to nurture and further promote local tourism," said MATTA president Nigel Wong.
Key partners and sponsors include:
– Malaysia Aviation Group (Official Airline Partner)
– RHB Bank (Exclusive Platinum Sponsor)
– Selangor (Malaysia's Featured Destination)
– Saudi (International Destination)
– AmLeisure (Media (Media Partner)
As a new addition to this year's event, MATTA Fair will host the MATTA Tourism Career & Education Fair at Hall 9, Level 3, on 2 September 2023. This event will bring together industry professionals, educators, and aspiring students in tourism. It will serve as a platform to exchange knowledge, insights, and opportunities within the tourism sector, providing students with valuable information to effectively shape their educational paths and careers.
In partnership with MITEC, MATTA Fair is committed to ensuring visitor convenience. Ample parking facilities are available at the North and South Entrance Basement parking in MITEC, MITI Basement parking, and MATRADE Open car park. Visitors are encouraged to use the free shuttle services from KL Sentral and Sunway Putra Mall to alleviate traffic congestion.
There will be daily talk shows and various multicultural performances from STOs and NTOs at Level 1 & Level 3. Visitors can engage with representatives from various countries and regions, learn about their unique offerings, and gain valuable insights into your next travel adventure. These include a performance by The Sky Band from Menara KL, Ayda Jebat sharing a session about Taiwan, a mesmerising Sape' Performance from Sarawak Tourism Board, and many other exciting performances.
"Renowned for its value-for-money travel packages, MATTA Fair September 2023 will live up to its reputation. All tour and travel exhibitors participating in the fair are licensed by the Ministry of Tourism, Arts, and Culture, ensuring consumers can confidently purchase. Visitors will be spoiled for choice with an array of new destinations and tour products on display," said Wong.
Visitors to the fair can take part in the MATTA Fair Buyers' Contest. Visitors can join the Buyers' Contest with every minimum purchase of RM 100 on any travel package. Look out for the buyers' contest booths at the foyer of each level to submit online entries and stand a chance to win the grand prize of return business flight ticket from Kuala Lumpur to London courtesy of Malaysia Airlines, besides other ticket prizes to a wide variety of destinations and attractions.
"Don't miss this unparalleled opportunity to explore the world of travel and tourism. MATTA Fair September 2023 promises to deliver unforgettable experiences, unbeatable deals, and a chance to discover Malaysia and the world in a whole new light," Wong concluded.
To encourage the use of the shuttle service, there will be daily lucky draws for those who use our shuttle service, and lucky winners stand a chance to win MYR100 Travel Vouchers for redemption with our Domestic Exhibitor companies. The voucher is valid until 31 March 2024.
It is free admission to the fair open from 1000 to 2100 for three days, Friday to Sunday. For more information, visit the MATTA Fair's website and social media platforms on Facebook, X, and Instagram, or subscribe to MATTA's new Telegram channels @MATTA_Fair.
Visit the MATTA Fair website: https://www.mattafair.org.my/index.php/en/