BANGKOK, 24 July 2023: Centara Hotels & Resorts, one of Thailand's leading hotel operators, is home to some of the country's top restaurants. Centara's talented chefs source local, seasonal and sustainable ingredients and give them a special twist to create craft mouth-watering menus that will surprise and delight diners.
For those who can't get enough of spicy Thai food, here is a selection of Centara's most unmissable dishes recommended by its chefs from its properties in Bangkok, Samui Hua Hin and Pattaya.
Crispy Red Tilapia with Betel Leaves
Suan Bua, Centara Grand at Central Plaza Ladprao Bangkok
The traditional Thai dish of meang kum is a social, culinary concept that involves filling betel leaves with a selection of condiments to create delicious bite-sized parcels that have a delightful blend of flavours and textures. This version features red tilapia, an exquisite freshwater fish which is deep-fried to give it a wonderfully crispy skin while leaving the meat soft and succulent, then accompanied with peanuts, roasted coconut, dried shrimp, lime, chilli, ginger, shallots and a delicious dipping sauce.
Discover a different side of the Thai capital at Centara Grand at Central Plaza Ladprao Bangkok, where guests can unwind in an urban resort-style ambience by day and chill out with fantastic food and rooftop drinks after dark.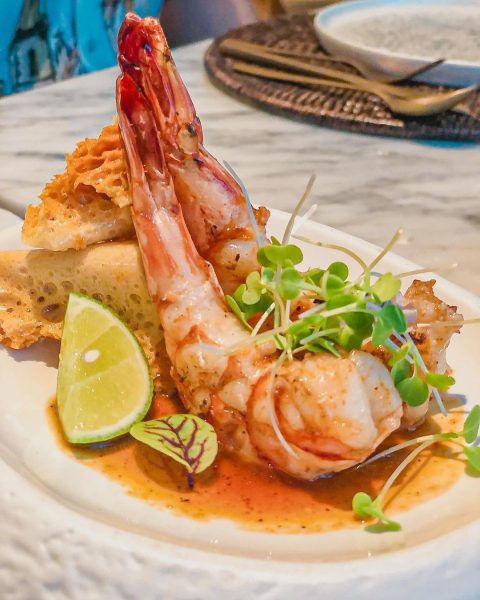 Grilled Tiger Prawn Sala Salad
Sa-Nga, Centara Reserve Samui
Thai tapas is a culinary concept that is sweeping the world. The cuisine lends itself perfectly to being enjoyed in light, bite-sized snacks – and this contemporary grilled tiger prawn salad is an excellent example of this. The highly-skilled chefs at Sa-Nga source the finest and freshest tiger prawns, grilled and served with caramel honeycomb, green oil and tamarind sauce to create an incredible taste sensation.
Overlooking the shimmering sea at the secluded end of Chaweng Beach, Centara Reserve Samui is an oasis of luxury and a haven of contemporary cuisine. Sa-Nga specialises in authentic Thai flavours with a modern twist.
Grilled Thai Beef Salad
Suan Bua, Centara Grand Beach Resort & Villas Hua Hin
In Thailand, salads are elevated to amazing new levels. One of the country's most popular recipes, yam nuea (Thai beef salad) is refreshing yet spicy, with a delectable blend of crisp vegetables, chilis and a fiery dressing. At Suan Bua, the elegant Thai restaurant at Centara Grand Beach Resort & Villas Hua Hin, this classic salad is perfected by a team of talented Thai chefs.
Centara Grand Beach Resort & Villas Hua Hin exudes an ambience of Thai grace and elegance. At Suan Bua, the signature Thai restaurant, diners can savour authentic local gastronomy in a stylish white pavilion overlooking the pool.
Northern Thai-Style "Khao Soi" Curry
Oasis, Centara Grand Mirage Beach Resort Pattaya
Fancy trying the world's best soup? In 2022, foodie website TasteAtlas placed the northern Thai classic, khao soi, at the top of its "50 Best Soups" list. But you don't need to visit Chiang Mai to try this supremely satisfying dish. At Oasis, the inviting restaurant at Centara Grand Mirage Beach Resort Pattaya, chefs blend a rich red curry sauce with local free-range chicken and egg noodles to create a culinary sensation, while pickled condiments perfectly balance the flavours.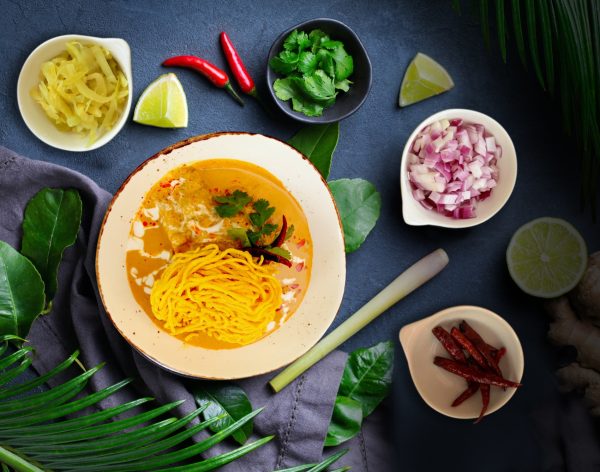 Centara Grand Mirage Beach Resort Pattaya is a paradise for families, where kids can make a splash in the Lost World water park, and all ages can explore new epicurean experiences at four restaurants and bars.
What is your favourite Thai dish? Do you prefer milder, fragrant plates or seek out the spiciest items on the menu? Centara's chefs can prepare each dish just the way you like it.
For more information about Centara and to embark on a Thai culinary adventure in the "Land of Smiles," please visit www.centarahotelsresorts.com.