SYDNEY, 10 July 2023: Jetstar will start direct flights between Melbourne and Fiji (Nadi) on 16 December, before the busy Christmas holiday.
Using an Airbus A321neo LR the airline will operate three weekly flights with capacity to uplift 72,000 customers to the South Pacific nation annually.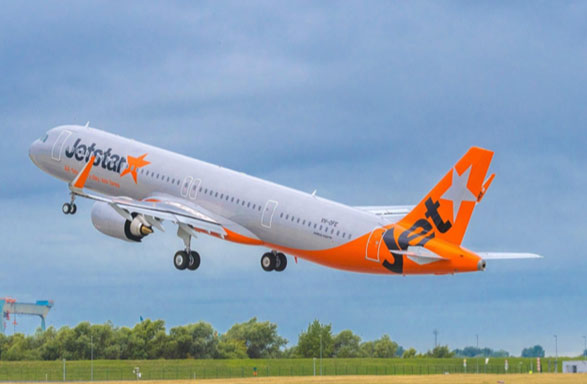 It's the first time a low-cost carrier has offered nonstop flights from Melbourne to Fiji, and kick-off sales Jetstar offered one-way fares from AUD179 for just one day last week.
Jetstar's Chief Customer Officer, Alan McIntyre, said now Melburnians can access great low fares and nonstop service to Fiji.
"Since relaunching our Sydney to Fiji services, we've seen strong demand from Melbourne travellers, and from December, they will be able to fly direct," said McIntyre. "Fiji is a hugely popular destination for Australians, and with interest continuing to grow, we're offering more than 70,000 great low fares seats each year between Melbourne and Fiji."
The announcement comes just days after Jetstar began flying between Sydney and another new South Pacific destination, Rarotonga, the largest of the Cook Islands, using its NEO. The Airbus A321neo LR will also be deployed on the carrier's existing Sydney to Fiji service starting from 29 October 2023, adding 46 seats per flight compared to the Airbus A320.
To support flying Melbourne to Fiji, the service between Sydney and Fiji will change to three return flights a week from 16 December 2023. The airline will offer six weekly flights from Australia to Fiji between the two services.
Melbourne-Fiji timetable starting 16 December 2023

Last week, Jetstar announced the launch of its fourth weekly return service between Sydney and Seoul, effective 5 February next year. Jetstar started flying between Sydney and the South Korean capital in November 2022 and currently operates three flights a week, carrying more than 60,000 customers a year between the two destinations. The fourth weekly service between Sydney and Seoul adds another 30,000 low fares to the popular route yearly.
Last week the low-cost carrier also announced three new flights every week between Brisbane and Seoul starting on 1 February 2024. It will boost Jetstar's presence on routes from Australia to Seoul, Korea, to daily flights —Sydney (4) or Brisbane (3) — from next February, raising seat capacity to around 240,000 across the two routes.
Australia-Seoul timetable starting 5 February 2024