SINGAPORE, 2 June 2023: Singapore Tourism Board has launched Singapore 'Wanderland' on Roblox [1], marking its first foray into one of the world's most popular online game platforms. The new game is a whimsical take on Singapore, drawing over two million visits since the beta version launched on 11 May.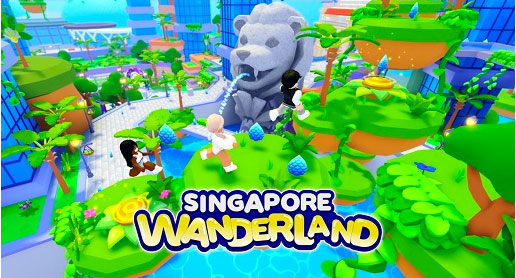 Singapore 'Wanderland' is part of STB's efforts to reach new audiences and allows users to experience Singapore as they accomplish various tasks in a virtual world. To reimagine Singapore in the metaverse, STB worked with gaming specialist Publicis Play and Roblox developer Wonder Works Studio to create the immersive experience over five months. Singapore 'Wanderland' puts a playful spin on real-life attractions in three mini-games, where players earn magic orchids to transform a garden with STB's destination mascot Merli.
Gardens by the Bay, Mandai Wildlife Group and Marina Bay Sands are featured in the mini-games alongside iconic attractions such as the Merlion Park, Singapore Flyer, Adventure Cove Waterpark and The Fullerton Hotel Singapore. The experience is based on popular entertainment formats on Roblox and aims to drive affinity for Singapore by featuring elements inspired by destination icons. For example, users can express themselves through fun personalisation options. They can amass virtual collectables to customise their avatars, such as a Supertree hat, a Singapore Flyer Backpack and a Lotus race car.
Roblox has over 60 million daily active users worldwide, allowing STB to reach key markets such as India, the US, Indonesia, the Philippines and Thailand.
It also offers a new way to reach the family segment, as over half of the users on Roblox are under 18 years old. The aim is to grow Singapore 'Wanderland' into a platform where local tourism businesses can experiment and find new audiences in virtual environments.
"STB is constantly exploring creative ways and fresh channels to engage new audiences and connect with potential travellers. Singapore 'Wanderland' demonstrates how we push the boundaries of innovation while inspiring travel to Singapore. We welcome visitors to explore Singapore virtually and for tourism partners to collaborate with us in the virtual world to create impact in the real world," said Singapore Tourism Board assistant chief executive marketing group Kenneth Lim.
[1] Home – Roblox
Visit Singapore Wanderland in Roblox here: http://www.roblox.com/singaporewanderland/
(Source: STB)