HONG KONG, 9 June 2023: Hong Kong Airlines continues to expand its route network to six destinations in Japan by adding a four-weekly service from Hong Kong to Nagoya starting 8 July 2023.
Flights on the new route are scheduled on Monday, Wednesday, Friday and Saturday until August, when they will increase to daily. Flight HX664 will depart Hong Kong at 0930 and arrive in Nagoya at 1425. On the return leg, HX665 will depart Nagoya at 1525 and arrive in Hong Kong at 1830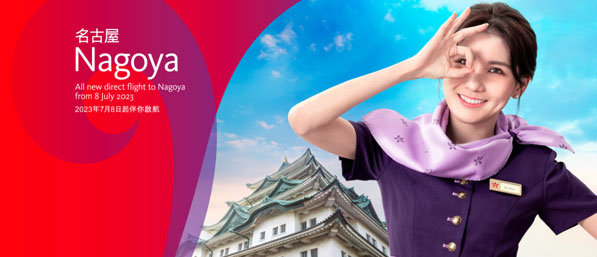 In addition to the new flight to Nagoya, the airline serves Tokyo Narita (NRT), Osaka (KIX), Fukuoka (FUK), Okinawa (OKA) and Sapporo (CTS).
Commenting on the new service to Nagoya, the airline said in a press statement it represents a continued effort to provide travellers with more options to explore Japan. Nagoya is the capital city of Aichi Prefecture and home to 2.3 million people. As the transportation hub of Japan, it is an important gateway for travellers to connect to different popular attractions easily. From the magnificent Nagoya Castle, which has a significant place in Japanese history, to the scenic countryside of Shirakawagō, a UNESCO World Heritage site famous for its traditional gassho-zukuri farmhouses, Nagoya is an excellent destination for those looking to experience the rich history and vibrant culture of Japan.
Hong Kong Airlines continues to add flights to meet an increase in demand for summer travel between Hong Kong and Japan. Later this month, it will increase flights to twice daily to both Osaka and Okinawa and offer three weekly flights to Sapporo. On the Tokyo (Narita) route, the airline will increase flights to three daily effective 25 June. Daily flights will serve routes to Fukuoka and Nagoya during June and August.