DUBAI, 3 May 2023: Tourism Malaysia steps up promotional activities to attract visitors from the Middle East during its sale mission to the Arabian Travel Market this week.
Deputy Minister of Tourism, Arts & Culture Malaysia, Khairul Firdaus Akbar Khan led the Malaysian delegation to participate again in the Arabian Travel Market (ATM) in Dubai from 1 to 4 May 2023 at Dubai World Trade Centre (DWTC).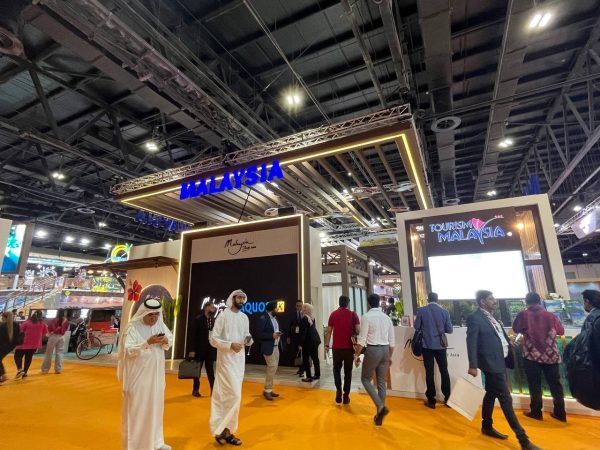 On 2 and 3 May 2023, the minister witnessed the signing of two Memorandum of Collaboration (MOC) between Tourism Malaysia and Saudia Airlines and Tourism Malaysia with Air Arabia. This MOC will benefit the Malaysian economy and strengthen economic ties through the tourism industry between Malaysia, the Kingdom of Saudi Arabia, and the United Arab Emirates.
The four-day ATM offers Malaysia a platform to market and promote the latest attractions and destinations for shopping, family fun, eco-adventure, honeymoon, luxury holidays, and safe travel destinations.
ATM 2023 also marks the 29th anniversary of Malaysia's participation in this event, which is a strong testimony to the country's support of the event and its commitment to attracting more Middle Eastern tourists to Malaysia.
As in previous years, this annual event sees the participation of a Malaysian delegation from 76 organisations comprising hotels and resorts, travel agents, tourism products owners, and representatives from various state governments, including Langkawi Development Authority (LADA), Penang Global Tourism, Sabah Tourism Board, Sarawak Tourism Board, Tourism Melaka, Tourism Pahang, and Tourism Johor.
The mission aims to reinstate and enhance the commitment to establishing good tourism cooperation, engaging in future collaborations, and cooperation with the travel and tourism industry in the region.
Deputy Minister of Tourism, Arts & Culture Malaysia, Khairul Firdaus Akbar Khan, commented during the launch: "We are confident that we will achieve our target to put Malaysia as the top destination for Muslim travellers".
Throughout the event, the Malaysian delegation is scheduled to meet up with the top management of a few Middle Eastern airlines, such as Qatar Airways, Emirates, Etihad Airways, Saudia Airlines, Air Arabia, Oman Air and Salam Air, to discuss future collaborations, having several interviews with the local media.
Since its full reopening of international borders, Malaysia has recorded 10,070,964 tourist arrivals and MYR28.2 billion (AED 23.5 billion) in tourist receipts in 2022, surpassing its initial target of 9.2 million international tourist arrivals. In 2023, Malaysia is targeting to welcome 16.1 million international tourist arrivals (300,000 tourists from West Asia) and generate MYR49.2 billion (AED 41.1 billion) in tourist receipts. In 2022, Malaysia recorded 88,534 tourist arrivals from the Middle East.