KOTA KINABALU, 19 May 2023: Indian golf tour experts visited Sabah earlier this week to check out courses and explore the state's tourist destinations and natural beauty.
Tourism Malaysia hosted the golf tour experts for a four-day familiarisation tour, which included a dinner hosted by Sabah Tourism Board chairman Datuk Joniston Bangkuai on the first day of the itinerary.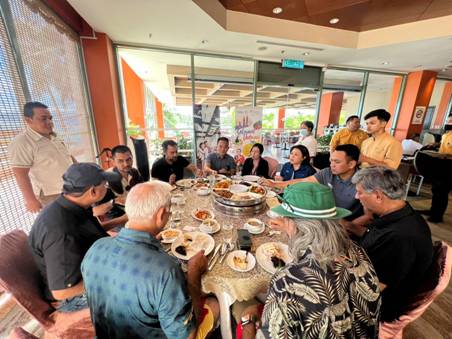 During the dinner event, the group shared their perspective on how Sabah could capitalise on its diverse offering for vacationers while allowing golfers to play on world-class golf courses.
India's leading golf educator Romit Bose remarked that Sabah's opportunity is readily apparent, emphasising the availability of golf courses within a resort, hotel facilities, and the fantastic weather to play golf all year round.
"I run an academy in New Delhi, where I train golfers and nurture junior golfers who aspire to become pros so they can compete in tournaments. I can see Sabah as a tournament destination.
"Taking advantage of everything that Sabah offers, you should be able to attract between 300 and 500 junior golfers with their family members. To me, Sabah should be a destination for kids and their families," said the managing director of The Golfing Hub.
The managing director of Diplomatic Travels, Mahender Pal Khanna, acknowledged that the stunning natural beauty of Sabah's state capital alone is a draw, and good wellness spas are an added plus for Indian tourists.
"From what I have experienced, Sabah is a fantastic destination with much more than just golf. The wedding industry is also significant to us, which you can tap into. I believe having direct flights from India will help bring multiple guests to Sabah," he added.
Group members also spoke about the potential of mounting direct chartered flights from India to Sabah shortly.
The group's trip occurred after a successful meeting between golf operators and the Deputy Minister of Tourism, Arts & Culture Malaysia, YB Khairul Firdaus bin Akbar Khan, at the South Asia Travel & Tourism Exchange (SATTE) 2023 in India last February.
"We are thrilled to showcase Sabah's beautiful golf courses and attractions as a significant step in positioning Sabah as a premier golf destination for Indian travellers.
Through collaborations with industry players and enhanced connectivity, we are confident that Sabah will captivate Indian golfers and contribute to Malaysia's tourism growth," said Khairul, who met the golfers at a luncheon earlier.
Meanwhile, Joniston, also the state Assistant Minister of Tourism, Culture, and Environment, said Sabah hopes to offer a genuinely exotic golfing experience different from other golfing destinations.
"We have some 20 golf courses surrounded by lush rainforests, mountains, and pristine beaches, providing a unique backdrop for golfers to enjoy while playing.
"We have been welcoming golfers to Sabah, but India is a new market for us. We do hope to see more Indian golfers and their families in Sabah enjoy not only golfing but our rich cultural heritage.
"This cultural immersion adds another dimension to the golfing trip, making it a well-rounded experience that combines sport, nature, and cultural exploration," he said.
During their familiarisation trip, the group played golf at the Sutera Habour and Country Club and the Dalit Bay Golf and Country Club. They also inspected the Nexus Golf Karambunai Resort.
Present at the dinner were the Permanent Secretary of Sabah's Tourism, Culture, and Environment Ministry, Datuk Sr Mohd. Yusrie Abdullah; Tourism Malaysia Senior Director International Promotion Division (ASAF), Manoharan Periasamy; Tourism Malaysia Deputy Director (North and East India) Muhammad Akmal Hafiz Abdul Aziz; and Sabah Tourism Board Deputy Chief Executive Officer, Tay Shu Lan.
For more information, visit www.sabahtourism.com.
(Source: Sabah Tourism Board)