HANOI, 22 May 2023: Vietjet Air will launch a new route connecting Hanoi, the Vietnamese capital, with Hiroshima in Japan starting 19 July.
According to the airline's schedule, flights will operate twice weekly on Wednesday and Sunday. The flight time is approximately four hours and 30 minutes.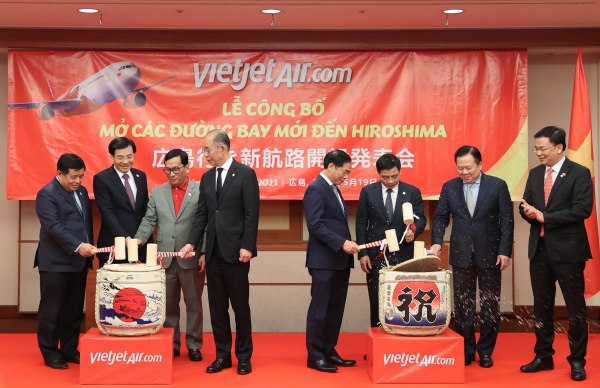 The flight using an A320 will depart Hanoi's Noi Bai Airport at 0215 and arrive at Hiroshima Airport at 0845 (local time). The return flight will depart Hiroshima at 0945 (local time) and land in Hanoi at 1235. Once the new route is established, the airline will offer 58 round-trip flights between the two countries weekly.
Last year Vietnam welcomed over 128,000 Japanese tourists, around 10% of pre-pandemic levels. Japan attracted more than 284,000 Vietnamese tourists last year, accounting for 7.4% of its international visitors.
Phuket flight
Meanwhile, the airline introduced its first direct service from Hanoi to the Thai holiday island of Phuket on 19 May, with 94 passengers on board the inaugural flight. Flight time on the daily service using an A320 is around three hours.
Vietjet is the first airline to operate a direct service between Hanoi and Phuket following the successful launch of direct services from Ho Chi Minh City to Phuket earlier this year.
The inaugural flight took off from Hanoi at 1135 and landed in Phuket at 1440. The return flights departed Phuket at 1545 and arrived in Hanoi at 1835.