LANGKAWI, 20 April 2023: Lankawi's Earth Day celebrations on Earth Day, 25 April, will focus on increasing environmental awareness and appreciation for its UNESCO Global Geopark.
On the centre stage, Langkawi UNESCO Global Geopark will organise a Geotalk on the environment featuring local and leading academic experts who will discuss the challenges and opportunities the island faces to green its tourism and the importance of conserving nature.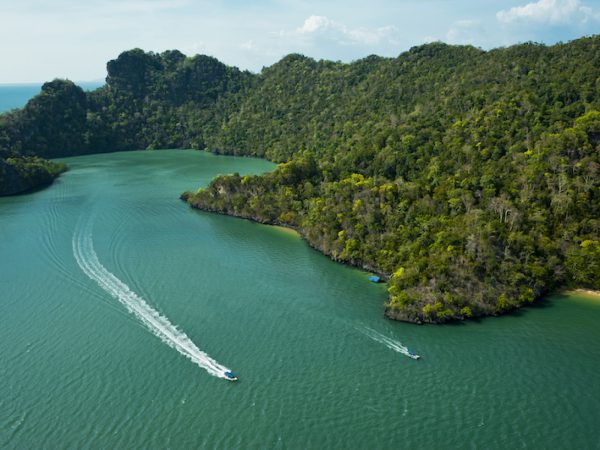 Langkawi UNESCO Global Geopark delivers the heritage and beauty of Langkawi's spectacular unspoilt landscapes and breathtaking beaches, allowing travellers to explore the captivating mangrove forests and jungle vistas on a journey back in time. Geological time. Not hundreds, thousands, or millions, but hundreds of millions of years.
UNESCO Global Geoparks (UGGp) are single, unified geographical areas recognised by UNESCO to have a rich archaeological and biological heritage managed according to a global concept of protection, education and sustainable development.
In 2007, Langkawi was awarded UNESCO Global Geopark status, the first Global Geopark in Southeast Asia, and is one of only 147 worldwide to date.
Langkawi UNESCO Global Geopark comprises Machinchang Cambrian Geoforest Park, Kilim Karst Geoforest Park, Dayang Bunting Marble Geoforest Park, and Kubang BadakBioGeo Trail.
Each of these geoforest parks showcases significant geological, biological and cultural heritage. With abundant natural wonders, from ancient rock formations and dramatic mountain peaks to a wealth of flora and fauna, the Geopark experience is not to be missed. So keep your eyes open and your camera ready!
The Langkawi archipelago boasts the region's oldest and most complete Palaeozoic (540 million to 250 million years ago) geological record. Tectonic episodes, through uplift, brought Langkawi to the surface from beneath the ocean, resulting in the rocks undergoing continuous erosion, creating the unique geological landscape we see today.
Langkawi UNESCO Global Geopark Discovery Centre (GDC)
This centre officially opened to the public in January 2020. The GDC will let you delve deep into its half-billion years old past, offering an educational and entertaining collection of exhibitions, displays, photography, digital and interactive media and more. Conveniently located at our conservation area, Kilim Karst Geoforest Park, this centre has eight zones.
Zone 1
INTRODUCTION AND SOCIOCULTURE
Take a geological and historical exploration of Langkawi and witness its nature and beauty through 3D animations showcasing the island's formation and development through era, epoch and age!
Zone 2
MYTHS AND LEGENDS
Langkawi is a land full of myths and legends. Langkawi Island's tales have become part of the Langkawi mystique, starting with the heroin Langkawi, Mahsuri and other famous tales.
Zone 3
MANGROVE FOREST
Over 70% of the world's true mangrove species are present in Langkawi. Langkawi's mangrove forests are one of the park's "Jewels in the crown".
Zone 4
THEME EXHIBITION AREA
Enjoy a first-hand experience studying rocks, fossils and other fascinating geological ecosystems.
Zone 5
UNESCO GLOBAL GEOPARK
Learn more about Langkawi UNESCO Global Geopark, which are among the 177 geoparks from 46 countries across the globe.
Zone 6
INTERACTIVE GAMES
Make your visit to GDC even more exciting and engaging when you experience the fun and excitement of the interactive game zone.
Zone 7
LIBRARY
Take a break by getting extra knowledge from various genres of books available here. A must-visit area for book lovers.
Zone 8
AMPHITHEATRE HALL
Enjoy watching a short video about the formation of Langkawi Island 550 million years ago and the whole elements that make up the diversity of Langkawi UNESCO Global Geopark.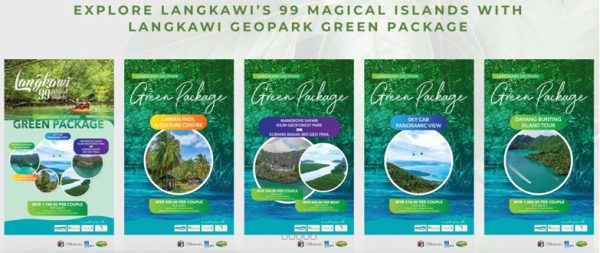 For more information visit https://langkawigeopark.com.my/geopark-discovery-centre/
(Your Stories: LADA)