KUALA LUMPUR, 15 March 2023: Malaysia Aviation Group joins the upcoming MATTA Fair as the official Airline, according to the latest announcement from the Malaysian Association of Tour and Travel Agents (MATTA).
Official Airline status goes to all three airlines within the group; Malaysia Airlines, Firefly and MASwings.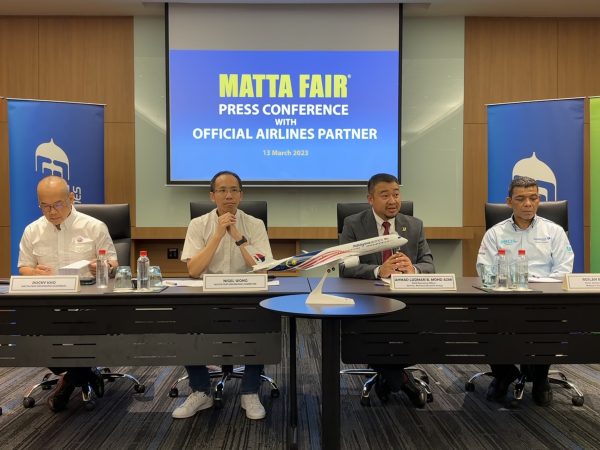 Southeast Asia's largest travel show will be held from 17 to 19 March at the Malaysia International Trade and Exhibition Centre (MITEC), Kuala Lumpur.
Located at foyer Level 1, Malaysia Airlines has snapped up 28 booths for this year's fair to promote destinations and fare deals on domestic and international routes.
With Malaysia Airlines onboard during the MATTA Fair, visitors can plan their next holidays and source bargains from various domestic and international packages.
The Airline offers up to 45% off selected domestic and international routes, and there is an opportunity to win one of the 37 return tickets in the "Buyers Contest".
Firefly will offer fares starting from MYR69 all-in one-way to domestic destinations and MYR99 all-in one-way to international destinations onboard its ATR 72-500 and Boeing 737-800 aircraft.
MASwings will offer all-in one-way fares starting from MYR131, valid from 16 to 24 March 2023, via the physical MATTA Fair event and the airlines' online platforms, for travel from now to 30 November 2023. Enrich members will also earn 50% Bonus Enrich Points during this period.
MAG's chief executive officer of airlines business, Ahmad Luqman Mohd Azmi said: "We are delighted to be part of Malaysia's biggest travel fair as the official airlines for MATTA Fair 2023 through sister companies Malaysia Airlines, Firefly and MASwings. This reinforces our commitment to providing more value, convenience and options through great deals and travel experiences for our customers while also playing our unique role in supporting the recovery of Malaysia's aviation and tourism sector.
On top of the great discounts offered on airfares, customers will also get to enjoy other deals beyond air travel, including on MHholidays, Journify, and travel add-ons.
"It's all part of MAG's wider aspirations of becoming Asia's leading travel and aviation services group focused on delivering customised, end-to-end travel solutions in line with our Long-Term Business Plan 2.0. As the appetite for travel regains momentum, we invite everyone to take advantage of the great offers available during MATTA Fair and on the airlines' website to enjoy the best deals for their upcoming travels," the CEO explained.
MAG airlines will give away 37 tickets in the Buyers' Contest, including Malaysia Airlines' business class return tickets to London, Sydney and Haneda and economy class return tickets to Osaka, Melbourne, Perth, Seoul Denpasar, Singapore, Kuching, Kota Kinabalu and Langkawi.
Firefly and MASwings will offer five and 12 return tickets to the winners' destinations of choice within the airline network.
MATTA Fair will open from 1000 to 2100 for three days, Friday to Sunday, 17 to 19 March. Admission is free.