KUALA LUMPUR, 9 March 2023: Ice Holidays (also known as Golden Destinations [GD]), Apple Vacations, and Andalusia Travel confirm their strong support and participation in the MATTA Fair due to take place from 17 to 19 March 2023 at the 52nd Malaysia International Trade & Exhibition Centre (MITEC), Kuala Lumpur.
Golden Destinations has booked 86 booths at the MATTA Fair located at International Hall (Level 3). Apple Vacations has 52 booths booked, and Andalusia Travel has 26. Both are located in the International and Umrah Hall (Level 2).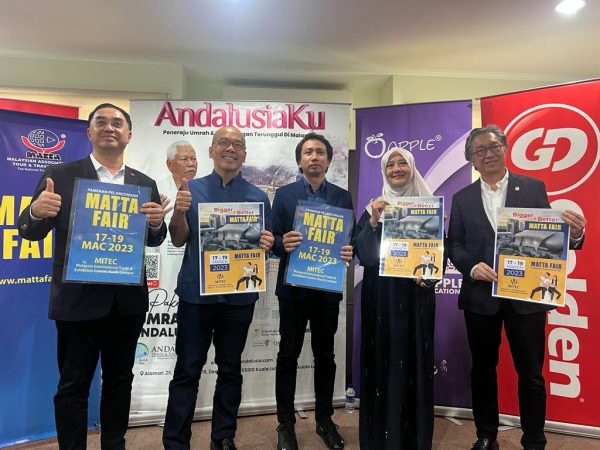 Golden Destinations and Apple Vacations offer visitors a selection of overseas vacation packages featuring deals and holiday packages for travel consumers visiting the fair. Since the epidemic lockdown, the demand for Umrah has increased significantly. Andalusia Travel is a single platform offering travel bargains for Muslim pilgrims preparing to perform Umrah.
Golden Destinations work closely with tourism boards such as Dubai, Hong Kong, Korea, Taiwan, and Japan (Fukuoka). It also collaborates with Malaysia Airlines, Air Asia, Cathay Pacific, Fiji Airways, Singapore Airlines, Scoot Airways and MY Airline ticketing booths.
Customers will receive GD Points when signing up for GD travel packages, which can be redeemed for various travel essentials, including GD Premium Luggage, GD Trolley Luggage, Hand Carry Bag, Travel Adapters, Umbrellas, Massage Pump, Water Bottle & Luggage Weighing Scale and many more.
Apple Vacations' classic and emerging packages to Europe and western countries are expected to be popular. The company will present "Sensational South America", "Alaska Cruise and the Canadian Rockies" holiday packages.
With the rapid development of the Muslim Tourism market and the Umrah pilgrimage, Andalusia Travel & Tours is upgrading its efforts to enhance the Muslim tourism industry further.
Admission to MATTA Fair is free. The fair is open from 1000 to 2100 for three days, Friday to Sunday, 17 to 19 March. Website  www.matta.org.my