VIENTIANE, 3 March 2023: Lao Airline confirms a 30 March start-up date for its new flight Vientiane – Danang direct service from the Lao capital to central Vietnam.
Updating its Facebook page on Thursday, the airline announced twice-weekly direct flights on Thursday and Saturday would start 30 March. An earlier promotion in late February flagged the route as "coming soon".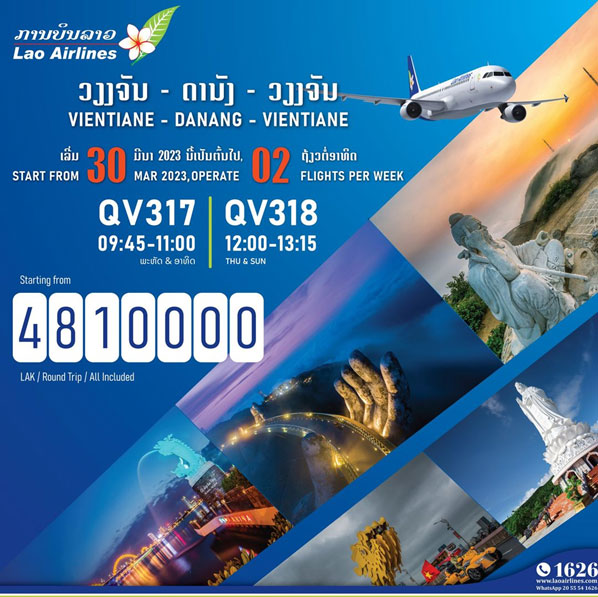 It's a vital air link for Lao tourism as it connects the Lao capital to Danang, a gateway city for international tourists visiting World Heritage destinations and beach resorts in the central coastal region of Vietnam. Danang is popular with Asian travellers from China, Japan, Hong Kong, South Korea and Taiwan.
Lao Airlines rolls out an all-in return fare of LAK4,810,000 (USD285) for the twice-weekly flights (Thursday and Sunday). Bookings are open. A check of the airline's website Thursday suggested demand is high. The promo fare category had already sold out on the 30 March outbound sector, raising the roundtrip fare quote to USD319, combining promo and silver fare categories out on 30 March and back on 9 April.
Pre Covid-19 pandemic, the airline served the Danang route making a transit stop in Pakse, using an ATR72-600 aircraft. It announced it would cut out the Pakse stop and fly direct from Vientiane Danang just weeks before the two-year Covid-19 lockdown grounded all international flights. The new direct service Vientiane – Danang uses a 180-seat A320 for the one-hour 15-minute flight.
Flight schedule
Vientiane – Danang
QV317 Thursday and Sunday
Vientiane – Danang
0945 – 1100
QV318 Thursday and Sunday
Danang – Vientiane
1200 -1315