SINGAPORE, 16 March 2023: The third edition of the online Halal In Travel Global Summit (HITGS 2023) is set to take place on 30 May to 1 June, hosted by CrescentRating & HalalTrip.
With more than 60 experts from national tourism organisations, travel industry stakeholders, and online travel industry players sharing ideas, HITGS 2023 is billed as a must-attend event for anyone interested in the Halal travel space. Registration is free for the online summit. Visit this link to learn more about HITGS 2023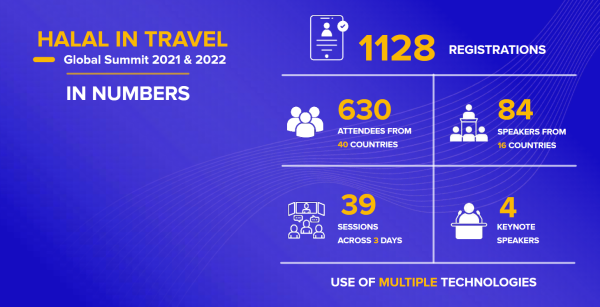 The Muslim travel market is expected to play a crucial role in the next phase of the industry's growth. International Muslim traveller arrivals reached 160 million in 2019. It is projected that Muslim traveller arrivals will reach 140 million in 2023 and return to the 2019 level of 160 million in 2024. Visitor arrivals are projected to reach 230 million with an estimated expenditure of USD225 Billion by 2028.
In addition to keynote presentations by tourism ministers, attendees will have the opportunity to participate in discussions on some of the key areas the industry needs to prepare to welcome Muslim travellers.
The HITGS 2023 will also feature the launch of the 8th edition of the Mastercard-CrescentRating Global Muslim Travel Index (GMTI) 2023, the third edition of the HalalTrip 40, and the Halal In Travel Awards 2023. The GMTI is the premier index in the travel industry for the Halal travel space, providing a comprehensive annual report that ranks the top Muslim-friendly travel destinations worldwide based on factors such as the availability of Halal food, prayer facilities, and Muslim-friendly accommodation options.
This year's ranking will put more emphasis on sustainability initiatives by destinations. The Halal In Travel Awards were launched in 2022 to honour excellence in the Halal travel space. These awards recognise destinations, organisations, companies, and individuals who have considerably impacted the Muslim lifestyle travel segment.
There are four categories of awards, and nominations for the 2023 awards will close on 14 April 2023. Visit this link to learn more about the HIT Awards 2023.
The HalalTrip 40 was initiated in 2021 to recognise inspiring Muslims who have made significant contributions to their respective fields, and this year's list will be launched at the HITGS 2023. The list is a compilation of inspiring Muslims who have contributed eagerly, persistently, and arduously and have significantly impacted the community through their craft, product, or service. The compilation comprises four categories: Trailblazers, Advocates, Inspirers, and Creators. Visit this link to learn more about the HT40 2023.
"We are thrilled to host the Halal In Travel Global Summit 2023, bringing together key players in the travel industry to explore the vast potential of the Muslim travel market. As we navigate the challenges of the post-pandemic world, it is increasingly clear that the Muslim travel market will be a key driver of tourism growth," said CrescentRating & HalalTrip CEO Fazal Bahardeen.