BANGKOK, 3 February 2023: Qatar Airways has launched additional flights from Thailand, introducing a third flight from the famed holiday island, Phuket, to Doha, starting 1 February 2023.
This additional frequency to Phuket brings the number of flights from Thailand up to seven per day; three from Phuket and four daily flights from Bangkok.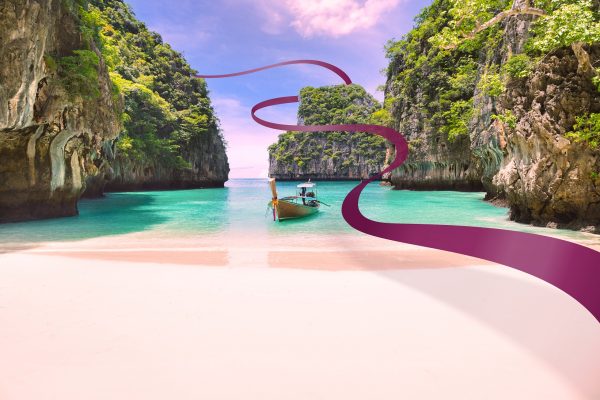 Qatar Airways will introduce additional flights from Thailand, starting with a third flight from Phuket, effective from 1 February 2023.
The additional flight from Phuket gives the airline seven daily departures from Phuket and Bangkok.
The airline serves 150 destinations across a global network, including flights to London, Manchester, Frankfurt, Paris, Zurich and New York, all with convenient connections for passengers flying from Bangkok and Phuket to the airline's hub in Doha.
Flight Schedule
PHUKET – DOHA (Daily flights)
QR 979 HKT – DOH Departure at 09:45, Arrival at 12:50
QR 843 HKT – DOH Departure at 20:50, Arrival at 23:55
QR 841 HKT – DOH Departure at 22:30, Arrival at 01:35+1
DOHA – PHUKET (Daily flights)
QR 840 DOH – HKT Departure at 02:15, Arrival at 12:45
QR 978 DOH – HKT Departure at 09:30, Arrival at 20:00
QR 842 DOH – HKT Departure at 21:15, Arrival at 07:45+1
BANGKOK – DOHA (Daily flights)
QR 837 BKK – DOH Departure at 01:50, Arrival at 05:15
QR 831 BKK – DOH Departure at 08:05, Arrival at 11:30
QR 835 BKK – DOH Departure at 19:30, Arrival at 22:55
QR 833 BKK – DOH Departure at 20:25, Arrival at 23:50
DOHA – BANGKOK (Daily flights)
QR 834 DOH – BKK Departure at 01:45, Arrival at 12:05
QR 836 DOH – BKK Departure at 02:20, Arrival at 12:40
QR 832 DOH – BKK Departure at 08:05, Arrival at 18:25
QR 830 DOH – BKK Departure at 19:45, Arrival at 06:05+1
"We are excited to expand our presence in Thailand by introducing these additional flights," said Qatar Airways Regional Manager Indochina, Bennet Stephens. "This is a significant step towards our continued commitment to the Thai market, and we are proud to be serving our passengers with safety and great global connectivity. We look forward to welcoming even more travellers on board our flights."
Visa card holders are also eligible to enjoy up to 10% off their bookings, and new users who join the airline's loyalty programme, Privilege Club, by 31 December 2023 can use the code PCSEA23 to earn up to 4,000 bonus Avios for travel by 30 June 2024