KUALA LUMPUR, 20 February 2023: The Malaysian Association of Tour and Travel Agents (MATTA) confirms Perak as Malaysia's Featured Destination for MATTA Fair scheduled for 17 to 19 March 2023, at Malaysia International Trade and Exhibition Centre (MITEC), Kuala Lumpur.
The 52nd MATTA Fair will occupy three exhibition floors representing 37,000 sqm of space booked by exhibitors to present their offers. MATTA Fair will set a new record as Southeast Asia's largest international travel fair.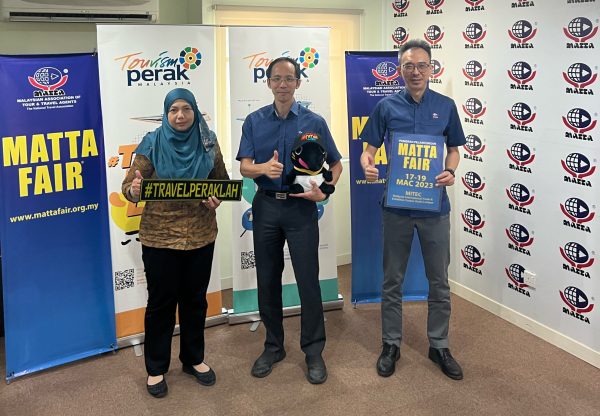 Tourism Perak will showcase the '12 Icons of Perak' as a collection of breathtaking natural features, grand vistas, and famous spots that should top a visitor's must-see list. The state has booked the largest booth space at 1590 sqm of all the state tourism organisations joining the MATTA Fair this year.
MATTA Fair's partnership with Tourism Perak will help attract more local and foreign tourists to the state. Statistics show that Perak received 1.4 million domestic tourists in 2021 and aims to be the main domestic tourism destination this year.
"The participation of Perak this time around is considered one of the preparations by the state of Perak to celebrate the Visit Perak Year 2024 and to further strengthen the Visit Ipoh Year 2023 by providing a promotion and marketing platform to approximately 95 players in the tourism industry in Perak.
"By embracing the 'heritage building' theme, the MATTA FAIR KUALA LUMPUR programme will highlight the uniqueness and specialities found in the state of Perak through handicraft products, food, small and medium industry products, art and culture, as well as tourism products and many more. Various activities will be held for lucky visitors over the three consecutive days event," said Tourism Perak chief operations officer, Mdm Zuraida binti Md Taib.
Admission is free to the fair, open to trade and consumer visitors from 1100 to 2100 for three days, Friday to Sunday from 17 to 19 March.
Visit the MATTA Fair website and social media platforms on Facebook, Twitter, and Instagram, or subscribe to its new Telegram channel @MATTAHQ to obtain the most recent updates.
ABOUT MATTA
MATTA is the leading and largest national travel association in Malaysia, with close to 3000 members, comprising local tour and travel agents and overseas affiliations. With a full-time secretariat in Kuala Lumpur, MATTA also has state chapters in Kuala Lumpur, Selangor, Melaka, Negeri Sembilan, Pahang, Terengganu, Kelantan, Johor, Penang, Perak, Kedah/Perlis, Sabah and Sarawak.