Dubai UAE, 23 February 2023: A kelp water carrier – or rikawa, known to Palawa, Tasmanian Aboriginal people – has returned to Australia after 230 years overseas.
Having been identified in 2019 in at the Musée du quai Branly – Jacques Chirac in Paris, the rikawa, on loan for two years, is now on display in the Tasmanian Museum and Art Gallery (TMAG)'s new exhibition, taypani milaythina-tu: Return to Country.
The rikawa was made in the late 18th century from bull kelp, wooden skewers and plant fibre ties. These vessels were used by Palawa people to hold and carry water, a life-sustaining resource. This item was collected from near Recherche Bay in 1792 by the expedition party of Bruni d'Entrecasteaux. Records of its existence in a private collection date to the 1820s when it was illustrated in a catalogue. After that, it entered the French public collections, was displayed in the Louvre, and then progressively mislabelled over the years, incorrectly describing its materials and country of origin, before ending up misplaced in various museum collections in Paris.
It is one of only two historic rikawa known in existence, with the second rikawa, which was taken about 1850 and displayed in the Great Exhibition of London in 1851 before being donated with other Tasmanian Aboriginal objects to the British Museum. This is also now on display at TMAG as part of the exhibition.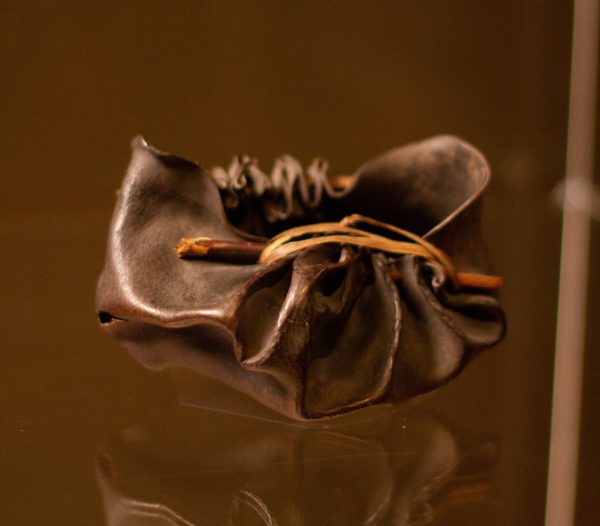 In 2019, this rikawa was re-discovered, mislabelled, in the Musée du quai Branly – Jacques Chirac's African collection. Dr Gaye Sculthorpe, a Palawa woman and experienced museum curator working at the British Museum researching her family history, came across a drawing of it done when it was on display in the 1890s in the Ethnographic Museum of the Louvre in Paris.
Dr Gaye Sculthorpe, Professor, Cultural Heritage and Museum Studies, Deakin University, says: "It is one of the most significant Aboriginal items in any museum collection and incredibly important for Palawa people to be able to see it in their country once again. I congratulate all involved who have made this happen."
The journey home to lutruwita/Tasmania
As a proud sponsor of the exhibition at TMAG, Emirates transported the rare and valuable rikawa under the care and supervision of curators from Musée du quai Branly – Jacques Chirac. The rikawa checked in at Paris Charles de Gaulle Airport, stopping at the airline's hub Dubai International Airport, before continuing to Melbourne, Australia. It continued its journey on a codeshare flight with Qantas to Hobart Airport.
Before leaving Paris, the rikawa was checked by condition report, a detailed physical assessment of the object's condition, before being placed into a specially designed and climate-controlled case for the journey. Curators escorting the rikawa could undertake checks throughout the flight and at borders to ensure it was secure. Throughout the journey, curators had direct contact with Emirates Cabin Crew to assist with the smooth journey of the rikawa. Upon arrival in Tasmania, the rikawa again underwent an intricate condition report, which confirmed there had been no damage before it was placed in a specially designed and climate-controlled display case.
Stéphanie Leclerc-Caffarel and Frédérique Servain-Riviale were amongst an entourage which travelled to Tasmania as part of the rikawa's journey home.
Speaking of the experience, Stéphanie Leclerc-Caffarel, Curator of Pacific Collections, Musée du quai Branly – Jacques Chirac, says, "It is astonishing to think that 230 years ago, a French expedition was here on these shores, and they took the rikawa, and brought it across oceans. Here we are centuries later in the same place as part of its return home. This kelp water carrier is a national treasure to France and a cultural treasure to the people of Tasmania. Who would have thought this small artefact could unite so many people from opposite parts of the world in such a remote place of Tasmania."
Flying with Emirates
Emirates has extensive experience transporting valuable items and precious objects onboard, including coveted sports trophies like the FA Cup, the Web Ellis Cup, ICC Cricket World Cup, and other historical artefacts, moving them across the world with care.
Barry Brown, Divisional Vice President of Australasia for Emirates, says, "It is our distinct privilege to be involved in the process of reconnecting this piece of Tasmanian Aboriginal history from one corner of the world to another, with the utmost care, and to ensure this invaluable kelp water carrier was reunited with its traditional owners. We are committed to reuniting Australians worldwide, whether with a place, people or cultural objects that hold a strong meaning and significance to them."
Emirates has been flying to Australia since 1996 and has transported over 40 million passengers on routes to and from Australia. The airline has been a longstanding supporter of arts, cultural and sporting institutions during this period, investing over $100 million in initiatives, including the Sydney and Melbourne Symphony Orchestras.
taypani milaythina-tu: Return to Country
TMAG opened its new temporary exhibition taypani milaythina-tu: Return to Country on Saturday 1 October 2022 to facilitate the Tasmanian Aboriginal community's reconnection with historical, cultural objects held in institutions worldwide.
The First Peoples Art and Culture team of TMAG work collaboratively with Tasmanian Aboriginal people in the development and delivery of artistic and cultural exhibitions and projects.
Former Senior Curator of First Peoples Art and Culture at TMAG and Palawa woman, Zoe Rimmer, welcomed the rikawa home. Her artwork on display at the exhibition, rikawa niyakara (Bull Kelp Dreaming), created with Palawa woman Theresa Sainty, is a cry for both rikawa to come home, rest and reconnect.
Zoe Rimmer says, "The rikawa are more than museum objects; they carry ancestral knowledge and presence. To bring the rikawa and other ancestral cultural materials home to lutruwita is an incredible opportunity for reconnection, healing and cultural revitalisation. Equally, this is an opportunity to build respectful and collaborative relationships between the Palawa community and the international institutions that hold our cultural belongings."
TMAG Director Mary Mulcahy says the museum is delighted the rikawa has returned to lutruwita, where it joins 12 other objects from the United Kingdom that have also returned as part of taypani milaythina-tu: Return to Country. The exhibition continues until 7 May 2023, however, the objects are on loan for two years, during which the community will be able to access them.
"It is unusual for an institution such as TMAG to be loaned an object for a period of two years, and we are glad the Tasmanian Aboriginal community will finally have time to reconnect with the rikawa and the other important Ancestral objects on loan," Mary says.
"Of course, there are major costs involved in bringing these Ancestral objects back to lutruwita. The cost of transporting museum objects internationally is consistently expensive due to the logistics involved, and this has also been impacted by recent global events such as Covid-19 and the rising cost of fuel. We are therefore very grateful to Emirates for their assistance which has allowed us to bring the rikawa back to lutruwita."
For more information on the airline visit: www.emirates.com.
(Your Stories: Emirates)