VIENTIANE, 27 February 2023: Lao Airlines' Facebook page teases us with an invitation to fly the Vientiane -Danang route but fails to even hint at the launch dates on its Facebook page.
Laotian Times narrowed down the options saying the airline will "resume direct flights from Vientiane to the coastal city of Danang, Vietnam, in March this year."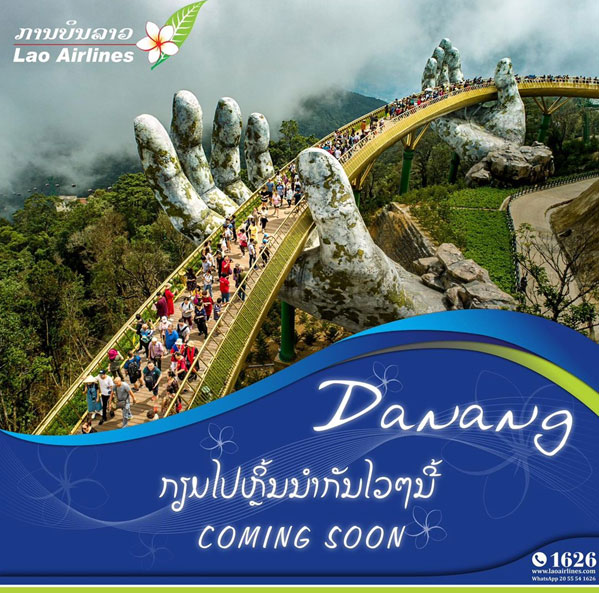 But the best Lao Airlines could conjure up was a "coming soon" post reminiscent of the blockbuster movie tagline "to a cinema near you".
The closest we can come to identifying a possible launch date for what Laotian Times says will be a twice-weekly service on Thursday and Sunday is a Travel Agents Facebook group Facebook post plugging a 30 March startup date. Travellers wait with bated breath for the airline to post a follow-up to the Facebook teaser that generated hundreds of responses on the airline's Facebook page. Not one asked when the flight would start.
The Laotian Times' report confirms the flight will depart Vientiane at 1100 for Danang and arrive at 1215. The return flight from Danang departs at 1300 and arrives in Vientiane at 1415. The estimated fare is USD260 for the one-hour and 15-minute flight. The airline will use a 70-seat ATR72-600 aircraft on the direct route.
Just two days before March arrives, a check of the Lao Airlines website fails to deliver a booking option for the Vientiane -Danang route. You can enter the cities in the blank spaces from drop-down menus without success. Not even a hint of a fare option or dates that might fire up a slew of advance bookings. Online travel agencies and booking sites such as Skyscanner are not loading any direct flight options between Vientiane and Danang, whatever the airline. The service may be coming soon, but Lao Airlines is in no hurry to activate the advance booking switch or tell OTAs they can sell now a direct from Vientiane to Danang.