SINGAPORE, 20 February 2023: You could say it was a sight for sore eyes to see Singapore's four terminal berths for cruise ships fully occupied last week, possibly the first time since Covid-19 locked down global tourism in 2020.
Cruise the World's Facebook account posted photographs of four ships at the docks at the Harbourfront's Singapore Cruise Centre and Marina Bay Cruise Centre.
Cruise the World's eagle eye photographer captured shots of two ships under Resorts World Cruises. Genting Dream docked at the Marina Bay Cruise Centre to allow passengers to disembark before departing for two weeks in dry dock. The ship will be homeporting in Hong Kong in mid-March once it returns to service.
Resorts World One berthed at Singapore Cruise Centre (Harbourfront), preparing for a media preview the evening of 16 February before raising anchor for its first commercial cruise on 17 February, a two-night High-Seas Weekend Getaway Cruise. It moved to the Marina Bay Cruise Centre, where passengers boarded the ship for the first cruise under its new branding. (Previously Explorer Dream)
TUI Cruise ship Mein Schiff 5 berthed at Marina Bay Cruise Centre for another 14-day Southeast Asia cruise.
Then there was Oceania Cruises Nautica berthing at the Singapore Cruise Centre as part of a 64-day Capetown, South Africa to Yokohama, Japan voyage.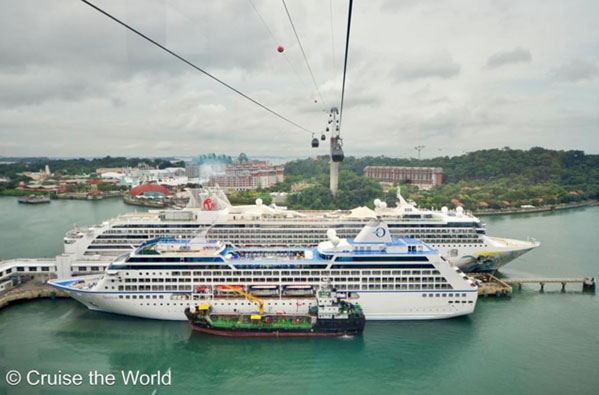 Singapore Cruise Society's Facebook page welcomed Queen Mary 2 to Singapore last week as part of the ocean liner's 117-Night Centenary World Voyage. Recognised as the World's last remaining ocean liner in active service, the ship berthed overnight in Singapore.
According to the Singapore Cruise Society Facebook page, "compared with cruise ships, the QM2 was built with thicker hull plating to withstand harsh North Atlantic waves."
Cruise the World speculates that Singapore might need more berths for cruise ships soon.
Meanwhile, the Philippines Department of Tourism noted that Seabourn Encore became the first cruise line to return to the Philippines earlier this month after a three-year pandemic-induced hiatus. Seabourn Encore, homeporting out of Singapore, sailed to the Philippines on a five-day cruise visiting four ports in the country, starting with Puerto Princesa on 9 February, followed by visits to Boracay, Coron, and an overnight stay in Manila.
(Source: Cruise the World and Singapore Cruise Society)
https://www.facebook.com/sgcruisesociety