KUALA LUMPUR, 13 February 2023: AirAsia pledged 5 million free seats last week to boost travel recovery across the 10 ASEAN countries.
ASEAN's top low-cost airline announced it was releasing the free seats* at a joint tourism briefing held with the Minister of Tourism, Arts & Culture, YB Dato' Sri Tiong King Sing, on 10 February.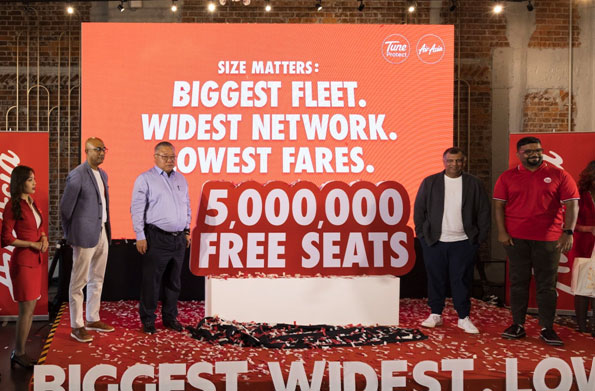 According to the airline, 5 million free seats are available to travellers booking domestic and international flights linking in the 10 ASEAN countries; Brunei, Cambodia, Indonesia, Laos, Malaysia, Myanmar, Philippines, Singapore, Thailand and Vietnam.
Travellers can fly to Penang, Langkawi, Kuching, Sibu, Kota Kinabalu and more from MYR23* and to international destinations, including Bali, Krabi, Jakarta, Macao, Shenzhen, Guangzhou, Phu Quoc, Ho Chi Minh City, Singapore and more from MYR60*.
For those seeking to adventure out further, AirAsia X offers flights to Gold Coast, Busan, Taipei, Tokyo and more with all-in low fares from MYR329* one-way economy. The fares are available for bookings until 19 February 2023, with the travel period from 1 March 2023 to 10 December 2023.
Malaysia's Minister of Tourism, Arts and Culture YB Dato' Sri Tiong King Sing, said: "The tourism sector is a major economic driver for Malaysia, accounting for almost 15% of our gross domestic product (GDP), and air connectivity is the backbone of our tourism sector. As we target to receive 15.6 million tourist arrivals with MYR47.6 billion in tourism receipts for 2023, we would like to commend AirAsia for outlining its plan to revitalise the tourism industry and play an integral part in achieving this outcome."
AirAsia has carried close to 800 million guests in the past two decades. Pre-pandemic in 2019 alone, the airline carried over 25 million guests to Malaysia, more than 40 million guests to the ASEAN region, and 17 million guests to North Asia.
Capital A CEO Tony Fernandes said: "As they say, size matters. When it comes to airlines, bigger is always better so we can leverage economies of scale and pass on to our guests in the form of lower fares and deliver more value and choice. AirAsia has been a major contributor to Malaysia and Asean's GDP. AirAsia alone contributes to more than 2% of Malaysia's GDP. You may think 2% is a small number, but for a big country like Malaysia, with a GDP worth more than MYR1.5 trillion, 2% is a sizable contribution."
* The FREE SEATS exclude airport tax, MAVCOM fee, fuel surcharge and other applicable fees. Terms and Conditions apply.