SEPANG, 14 February 2023: AirAsia resumes flights from its Kuala Lumpur and Kota Kinabalu hubs to Macau, Shenzhen, Guangzhou and Kunming, starting with 10 flights weekly.
The airline plans to increase frequencies to 27 flights weekly as early as this March.
The first flight to and from China recommenced on 10 February 2023 on the route to Guangzhou.
Complementing the resumption of the short-haul destinations, AirAsia X Malaysia (D7) will reconnect Kuala Lumpur to Shanghai, Hangzhou, and Chengdu with 10 weekly flights starting 1 March 2023.
AirAsia Malaysia CEO Riad Asmat said: "China is an integral market for AirAsia Aviation Group, where we were the largest international low-cost carrier by capacity pre-pandemic. Based on the impressive load factor of our inaugural flight to and from Guangzhou, the restart of our services will provide greater value and accessibility to essential travellers from Malaysia and tourists from China."
AirAsia X Malaysia CEO Benyamin Ismail added: "China will be our next primary market focus as we resume our growth strategy flying our most popular and profitable routes. In the past, we witnessed tremendous success with our services to China, where we carried over 1.8 million guests to/from China in 2019 alone."
As entry to China is limited to certain visas, guests are advised to check the travel requirements before booking flights. For the travel requirements to China, please refer here.
AirAsia Malaysia (AK) is offering all-in* one-way fare for essential travellers from MYR151/MYR223 from Kuala Lumpur and Kota Kinabalu to Macau, Shenzhen, Guangzhou and Kunming.
Starting one-way fares on AirAsia X Malaysia (D7) from Kuala Lumpur to Shanghai, Hangzhou, and Chengdu are MYR899/MYR1,088 in economy class or MYR2,199/MYR3,288 for Premium Flatbed.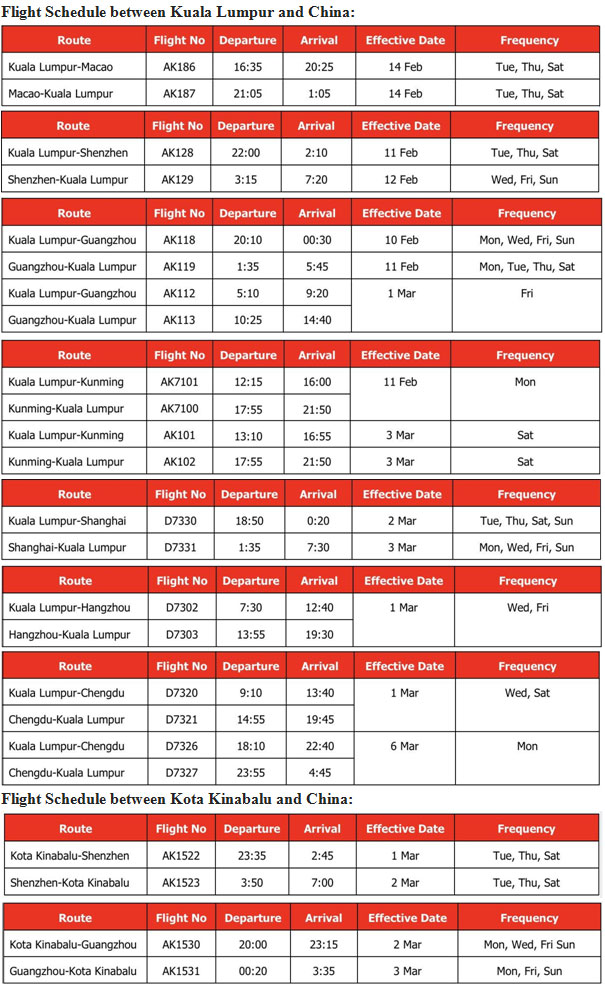 *Promotional all-in fare inclusive of airport taxes, MAVCOM fee, fuel surcharges and other applicable fees. Other terms and conditions apply. The booking period is open until 19 February 2023 for a travel period ending 26 March 2023.