DELHI, India, 19 October 2022: Club Vistara, the loyalty programme of Vistara, a joint venture of Tata group and Singapore Airlines, launches a campaign for CV members that offers curated getaways.
In its first phase, the programme offers Club Vistara members an assortment of tailored itineraries, such as a nomadic getaway to Ladakh and a captivating view of the Everest Summit.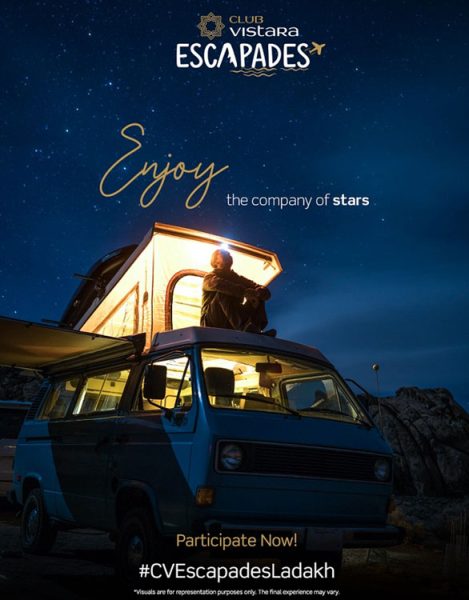 Members can participate via an Instagram contest or a raffle draw. The winners will become the faces of Club Vistara Escapades. They will be accompanied on their all-expenses paid trips by a professional production crew who will help them create exciting content for their and Club Vistara's social media handles.
Commenting on the announcement, Vistara's chief commercial officer Deepak Rajawat said: "Club Vistara has redefined the boundaries of a frequent flyer programme with a more meaningful lifestyle offering.
Club Vistara Escapades is our way of encouraging our loyal customers to do more of what they love. We are delighted to invite Club Vistara members to participate in this unique programme, specially designed to provide extraordinary experiences they will love sharing with the world and us."
Members need to log into their Club Vistara account, select Escapades on the dashboard, and participate through the dedicated microsite by selecting the experience that resonates most with their individual lifestyle preferences.
Club Vistara is a holistic lifestyle programme spanning travel and lifestyle choice touchpoints, including but not limited to flights, hotels, credit cards and retail. There are four tiers of membership of Club Vistara – CV Base, CV Silver, CV Gold and the highest tier, CV Platinum. Members can redeem their points for Vistara Award Flights or Upgrades Awards. CV members can also enjoy accruals and redemption on Singapore Airlines, Lufthansa, SilkAir, Japan Airlines and United Airlines.
About Vistara (TATA SIA Airlines Limited): TATA SIA Airlines Limited, known by the brand name Vistara, is a 51:49 joint venture between Tata Sons Private Limited and Singapore Airlines Limited (SIA).