PHUKET, 2 November 2023: Phuket hotels experienced promising momentum for the first half of 2023, which has set an optimistic path for the remainder of the year, according to research from C9 Hotelworks presented in its latest Phuket Hotel Market Update report.
At the mid-year juncture, international and domestic flight volume was already up 75% over total flights in 2022.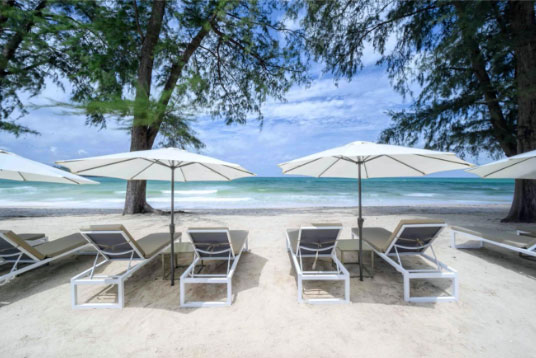 Russia and China led the way as the two top tourism source markets in the first six months of the year, followed by India, Australia and Kazakhstan.
Half-year market-wide hotel occupancy surpassed the 70% threshold, but the real boost for hotel owners was the sustained post-pandemic trend in higher room rates. While business is back to normal for over 2,000 Phuket registered accommodation establishments encompassing 106,000 rooms, hotel owners and operators have been plagued by recurring staff shortages.
With Phuket's hotel market roaring back this year and year-end forecasts likely to exceed pre-Covid levels, there is mounting concern over the resort island's failing infrastructure. A surge in full and part-time residents – driven by a sharp uptick in tourism, an overheating property market and wholesale return of development activity – has created massive traffic issues that threaten long-term growth.
Addressing the situation, C9 Hotelworks managing director Bill Barnett said: "High season 2023/2024 is likely to see a traffic gridlock scenario that will have a profound impact on tourists and residents alike. The absolute failure to bring transportation infrastructure projects from paper to reality over the past decade will have long-term repercussions.
"Key projects that have not found their way forward include the Patong-Kathu tunnel, cross-island expressway and light-rail (LRT). While the current government has made all the right noise about making these projects a priority, there is no public sector funding capacity at present. This effectively means that a series of public-private partnerships or BOT (build-operate-transfer) projects are needed to move these to the execution stage. This includes the much-needed Andaman International Airport."
Looking towards the coming winter peak period, C9's market research reveals that both hotels and tourism businesses remain deeply concerned over the slow return of Chinese travellers. Thailand's image has been damaged in this enormous market, and travel sentiment to the kingdom is muted despite a visa-free initiative. With China's recovery a work in progress, most hotels are looking to strong demand from Russia, Kazakhstan and India, along with traditional 'snowbird' seasonal travellers.
Despite strong underlying fundamentals for Phuket hotels, C9's Barnett points out, "the first-aid, band-aid approach by the public sector to tourism simply won't work in a mature international destination that Phuket has evolved into. For nearly two decades, the island's private sector has outgrown antiquated provincial infrastructure. What is desperately needed is a master plan and strategy that can fast-track an ailing infrastructure backbone."
Read and download C9 Hotelworks Phuket Hotel Market Update
About C9 Hotelworks 
C9 Hotelworks is led by founder and managing director Bill Barnett, who brings over 30 years of experience in the Asian hospitality and real estate sectors. Before founding C9 in 2003, he held senior executive roles in hotel operations, development and asset management. For more information contact www.c9hotelworks.com