KUCHING Sarawak, 21 November 2023: Miri Country Music Fest (MCMF) announced free entry to the 10th edition of the festival, scheduled for 1 to 2 December at Coco Cabana, Miri.
Datu Sherrina Husaini, Permanent Secretary, Ministry of Tourism, Creative Industry & Performing Arts Sarawak, announced the concession last Friday.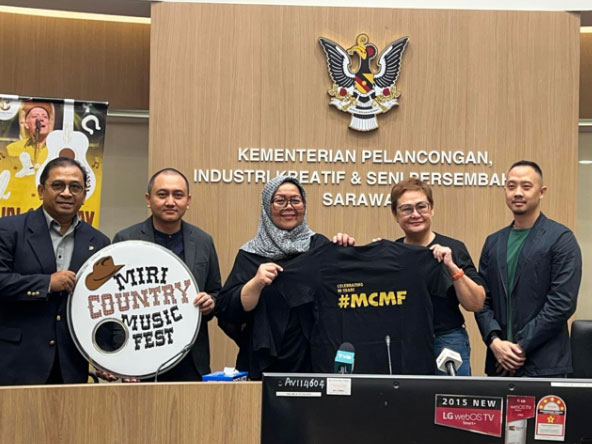 As MCMF celebrates its 10th anniversary, the festival has become a beacon of Country and Western music in Miri. The festival will feature a diverse lineup of nine country music bands from the USA, Vietnam, Malaysia, and various local bands from Sarawak.
As the first-ever country and western music festival in Malaysia, we make it not only a celebration of music but also a significant calendar event that boosts tourist arrivals and establishes Miri as a thriving resort city but also a hub to host international events," the permanent secretary reported.
Among the bands performing at MCMF 2023 are the Johnny Kongo Trio from the US and Vietnam, Os Pombos from KL, Country Road Band, Sessionista and The Sape Movement from Miri. For the first time the festival will also organise a 5km Fun Run scheduled to take place along the Marina Park on the second day of MCMF, 2 December at 1700.
To register for free entry to the festival and the 5km fun run, visit www.miricountrymusic.com.
MCMF is organised by Place Borneo Sdn Bhd and supported by the Ministry of Tourism, Creative Industry & Performing Arts Sarawak, together with official venue Coco Cabana, official hotel Mega Hotel and official logistic partner Transworld Travel Services Sdn Bhd. Sponsors for the event include Malaysia Aviation Group and Heineken Malaysia Berhad.