SINGAPORE, 14 November 2023: Travel analytics firm ForwardKeys says the recent Israel-Hamas conflict has negatively impacted flights to and from the Middle East and caused a global slowdown in the aviation industry.
According to its latest analysis, flight bookings have decreased by five percentage points in the three weeks following Hamas' attack on Israel on 7 October, when compared to pre-pandemic levels. The study compared flight bookings during the three weeks before 7 October with those during the same period after the attack.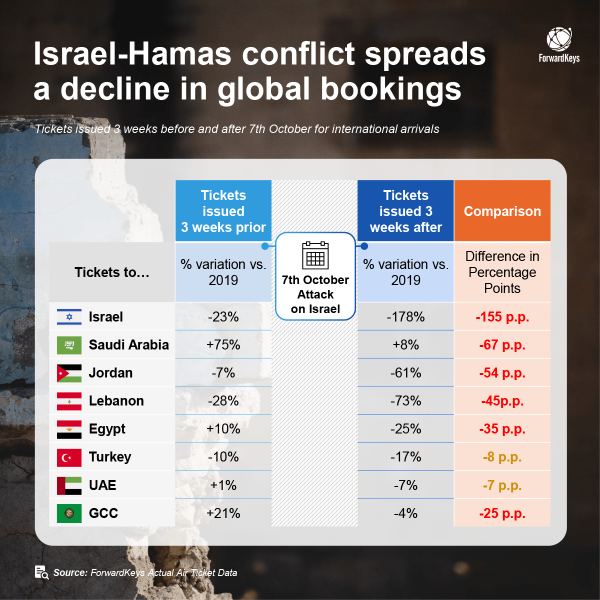 Looking at outbound travel, flight bookings from Middle Eastern countries have fallen by nine percentage points since the outbreak of war. They slowed by 10 points from the Americas, while Asia Pacific, Europe (including Israel) and Africa each slowed by two points.
From a destination perspective, the growth in bookings to all regions of the world has slowed down, apart from Africa, which has continued to recover towards 2019 levels. Flight bookings to the Americas are down by 6pp, Europe by 3pp, Asia Pacific by 1pp, and Middle East by 26pp.
Within the region affected by the conflict, Israel has suffered the worst, with many airlines having cancelled flights. In the period since 7 October, flight bookings plummeted by 155pp (*A fall in bookings of over 100% indicates no new bookings; there have also been cancellations, depleting the existing stock of bookings.) It is followed by Saudi Arabia, down 67pp; Jordan, down 54pp; Lebanon, down 45pp; and Egypt, down 35pp. Flight bookings to GCC nations have declined by 25pp.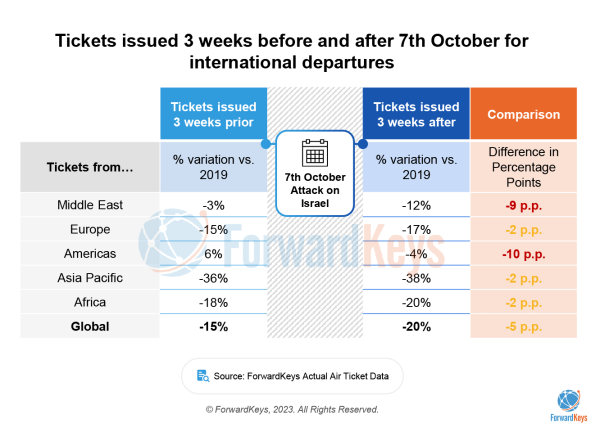 ForwardKeys, VP of Insights Olivier Ponti commented on the findings: "This war is a catastrophic, heartbreaking, human tragedy that we are all seeing daily on our TV screens. That is bound to put people off travelling to the region, but it has also dented consumer confidence in travelling elsewhere too."
"As of 6 October, bookings showed that global air travel in the last quarter of the year, Q4, would reach 95% of its 2019 level, but, as of 27 October, the outlook has fallen back by 7pp and stands at 88%. The equivalent change in outlook for the Middle East is much more sobering, falling back 16pp to 110%, from 126%, before the war began."