SINGAPORE, 14 November 2023: Changi Airport offers bicycle rentals to passengers who have a layover in Singapore.
This year-long campaign offers passengers free use of a bicycle for two hours to explore outdoor attractions in the airport's vicinity, including the Jurassic Mile and nearby beaches along Singapore's East Coast.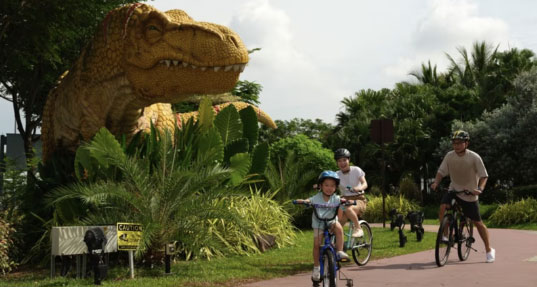 With an emerging preference for sustainable and authentic travel experiences, the Changi Airport Connector cycling path that links to Singapore's wider park connector network allows visitors to explore a diverse range of local sights such as the Bedok Jetty – a popular fishing spot, the East Coast Lagoon Hawker Centre and nearby residential neighbourhoods such as Bedok and Siglap.
Changi Airport Airport Operations Services senior vice president Ang Siew Min said: "This initiative represents Changi's endeavour to delight our passengers as they fly through our airport or visit Singapore. We hope our passengers can experience the tropical outdoors of our airport and its unique surrounding attractions beyond the indoor terminal offerings."
Passengers with more time to spare and are keen to venture further can pay to extend the bicycle bookings to enjoy more local sights and sounds at their own pace. To help passengers make the most of their time, Changi Airport Group has mapped out four different routes lasting two to six hours. Each route recommends experiences that appeal to different interests, from appreciating local culture and cuisine to exploring the rustic charms of a quaint part of Singapore.
At the bicycle return point at the airport, pay-per-use shower facilities and an alfresco café and bar are readily available, making it convenient for passengers to refresh and recharge before their onward journey. Advance booking is now available on Changi Airport's website.