SHANGHAI, 18 September 2023: Tourism Malaysia and partners are counting on China's outbound travel recovery to get visitor arrivals back on track in 2023, and promotional efforts kicked off at ITB China last week.
That was the message presented by Tourism Malaysia to travel trade visitors attending ITB China 2023, considered the biggest travel trade show in China, focusing on China's outbound travel sector. The show was held at the Shanghai World Expo Exhibition & Convention Centre from 12 to 14 September 2023.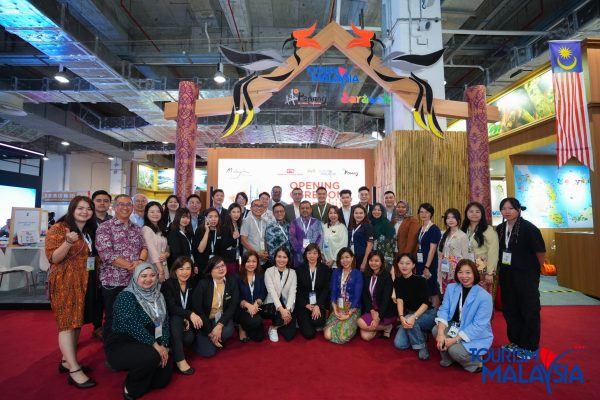 The delegation was headed by Tourism Malaysia's senior director of international promotions (Asia/Africa) division, Manoharan Periasamy. Penang Global Tourism and Sarawak Tourism Board joined Tourism Malaysia as its partner states. The sales team comprised 35 organisations, comprising 15 tour operators, 10 hotels and resorts, two state tourism agencies, three tourism associations, two product owners, two airlines and one tourism-related service.
ITB China is the leading B2B-exclusive trade show focused on the Chinese Travel Market, with selected buyers from the Greater China area. This is the third time Malaysia has participated since the show's inception in 2017. With the opening of the China borders in February 2023, Tourism Malaysia sees the show as a suitable platform for industry players to meet and plan their business strategies for the coming years.
Commenting on the participation, Manoharan Periasamy said, "ITB China is the biggest travel trade show in China, and Malaysia is excited to be part of the show again. We are committed to demonstrating Malaysia's presence in the China outbound travel market and our readiness to welcome more Chinese tourists to Malaysia. Our co-exhibitors will leverage the pre-scheduled appointments and networking sessions to establish deeper cooperation and garner more business opportunities."
"China is one of Penang's most important markets, and it has always been one of the top three arrival countries in Penang. It is crucial to keep the publicity momentum to draw travellers to Penang. Penang Global Tourism has organised the 'Experience Penang' roadshow in Guangzhou and Shenzhen, which increased flights from China. We hope our presence in ITB China with Penang industry partners will showcase the versatility of Penang being a world-class destination," said Penang State EXCO for Tourism & Creative Economy YB Wong Hong Wai.
"We are thrilled to be back to a fully physical ITB China this year and to meet up and revitalise relationships with new and established China travel agents. With borders now fully open, we look forward to creating more opportunities for Chinese visitors to come to Sarawak to enjoy our variety of Culture, Adventure, Nature, Food and Festival offerings available at all our gateways of Kuching, Sibu and Miri," said Sarawak Tourism Board deputy chief executive officer integrated marketing & communications Suriya Charles Buas.
China remains one of the top markets for Malaysia's inbound travel, contributing 211,363 arrivals last year. Up to May 2023, Malaysia received 403,121 Chinese tourists, compared to 21,613 (+907.2%) in the same period last year. Malaysia is currently targeting to receive 16.1 million international tourist arrivals with MYR49.2 billion in tourism receipts, with 5 million arrivals targeted to be from the Chinese market.
With the resumption and announcement of new international routes from Malaysia-based airlines and China-based airlines Air China, Spring Airlines and Xiamen Air, there are currently 217 weekly flights between China and Malaysia.