BANGKOK, 29 August 2023: Centara Hotels & Resorts launches its newest package experience, Enriched Journeys, as part of its ongoing 40th Anniversary Wave of Celebrations. This exclusive offer is available worldwide at Centara Reserve and Centara Grand properties, inviting guests to enjoy unforgettable stays overflowing with personalised moments and experiences.
Until 20 December 2023, travellers can indulge in luxury with the Enriched Journeys packages, carefully curated to provide an extraordinary stay at Centara's top-tier properties. Whether seeking a serene beach escape in the Maldives, a tranquil Thai island paradise, or exploring vibrant cities like Bangkok, Osaka, and beyond, guests are assured a stay that exudes Centara's signature hospitality and world-class service.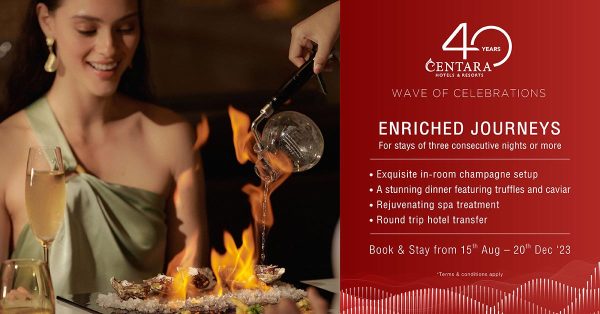 Centara Hotels & Resorts presents an array of exclusive privileges to guests who book and stay within the promotional period to commemorate four decades of excellence in the hospitality industry. Upon arrival, guests will be greeted with an exquisite in-room champagne setup, setting the tone for a memorable stay.
Guests at Centara Grand properties will delight in a tantalising dinner for two, a delectable affair that includes decadent truffles and caviar. At the same time, those staying at Centara Reserve Samui will indulge in a private barbecue dinner for two, offering a fusion of flavours in an idyllic setting.
Moreover, the Enriched Journeys offer aims to rejuvenate the body and spirit with a spa experience for two at the award-winning SPA Cenvaree. Guests can experience a range of pampering treatments that promise ultimate comfort and relaxation. The Wave of Celebrations: Enriched Journeys promotion also includes round-trip hotel transfers at all participating properties, except Centara Grand Hotel Osaka, to ensure a seamless and hassle-free journey.
To secure this exclusive offer, guests can book between now and 20 December 2023 at participating Centara Reserve and Centara Grand properties. Privileges are available for two-person stays per room and may vary by location.
For more information and reservations, please visit https://www.centarahotelsresorts.com/enriched-journeys