HO CHI MINH CITY, 12 May 2023: Vietjet Aviation Joint Stock Company has recorded its positive performance in Q1/2023, resulting from stable domestic flight operation and expansion of the international network.
According to the Q1/2023 financial statements, Vietjet's air transport revenue reached VND12,880 billion (USD553 million) while the after-tax profit was VND168 billion (USD7.2 million), increased by 286% and 320% YoY respectively. Ancillary revenue, in particular, was reported at VND4,312 billion (USD185 million), accounting for more than 33% of the revenue.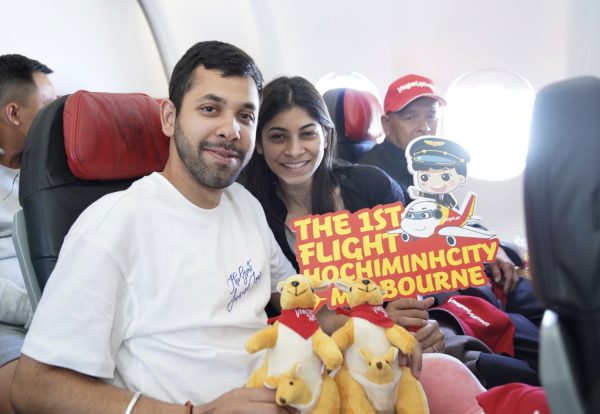 The company's consolidated revenue and after-tax profit were VND12,898 billion (USD554 million) and VND173 billion (USD 7.4 million), respectively.
In the first three months of the year, Vietjet has operated 31,300 flights and transported nearly 5.4 million passengers, growing by 57% and 75% YoY respectively. The airline's load factor averaged 85%, while the technical reliability rate was 99.59%.
Vietjet's air cargo volume in the quarter totalled more than 14,800 tons, up by 20% YoY.
International passenger transport remained the highlight, accounting for nearly 45% of the total passenger transport revenue and 30% of flight and passenger numbers.
As of 31 March 2023, the airline's assets totalled more than VND69,200 billion (USD2.96 billion), with the debt-to-equity ratio at one while the liquidity ratio at 1.3, both were staying within the safe range of the aviation industry.
Vietjet has paid up to VND1,053 billion (approx. USD45 million) of direct and indirect taxes, fees, and charges to the State.
In Q1/2023, the airline introduced 10 new routes (four domestic and six international), bringing the total routes to 105 (55 domestic and 50 international).
Since early 2023, Vietjet has increased flights connecting Hanoi and HCMC with other localities to meet the travel demand for family reunions and added more flights to tourist destinations.
The airline has launched new international routes from Vietnam to India, Kazakhstan and Australia. It also added new destinations in high-performing markets like Japan, South Korea and Thailand, attracting investment and tourism to Vietnam.
The airline expects to expand the fleet to 87 aircraft, operating 139,513 flights with 25.7 million passengers onboard in 2023.
A newly-introduced Skyboss Business product on the A330 aircraft and the loyalty programme SkyJoy both received positive feedback from passengers. Skyboss Business passengers are gradually increasing, while SkyJoy has over 3 million members.