DUBAI, UAE, 12 April 2023: Emirates, widely considered the QE2 among airlines and beloved by millions worldwide for its sumptuous air and land services, will now be sailing across the seven seas with its newly-launched maritime arm, Emirates Sealine.
Lucky ship-spotters and cruise aficionados witnessed glimpses of the first liner as it majestically sailed around Dubai's Palm Jumeirah earlier this month on its maiden sea trial – click here.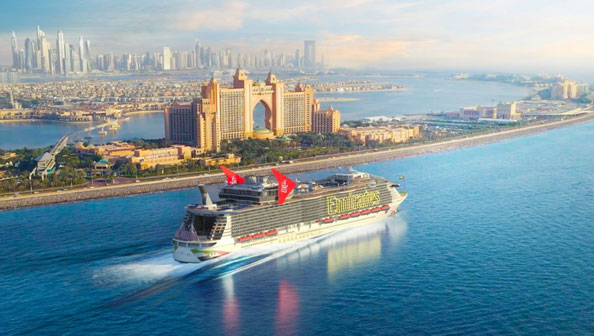 Emirates Sealine is promising cruisers top-tier and never-before-imagined experiences as they voyage to rarely-before-seen ports of call. It has placed a titanic, multi-billion-dollar order for 10 cruise ships.
Having identified significant gaps in the industry's offering, Emirates Sealine will give a wide berth to convention, offering a cruise calendar outside traditional seasons. The first cruise is scheduled to flag off from Dubai Harbour on 01 April 2024, with Karachi as the maiden port of call – harking back to the airline's first-ever flight in October 1985.
Itineraries and bookings will be open from 31 June. Emirates Sealine's liners will dock at major cruise ports – charting a course from the US to New Zealand – supported by the airline's colossal network.
Captain Jack Shallow, the newly appointed Chief Maritime Officer at the helm of Emirates Sealine said: "Emirates is no stranger to the seas, having been associated with powerboat racing in Dubai to Emirates Team New Zealand and, more recently, the Emirates Great Britain SailGP Team. While cities worldwide remain moored to challenges, Dubai is sailing smoothly at unimaginable knots and has outstanding cruise and other multi-modal transport infrastructure.
"Technology, AI and innovation in developing our future-generation cruise ships mean we can mirror the city's pace and sail at more than 50 knots per hour – nearly double the speed of the fastest ones today. We're working on providing luxury onboard, never-before-explored itineraries and once-in-a-lifetime experiences. We'll be running a tight ship to ensure we deliver on our promises to our customers. Right now, it's all hands to the deck as the team prepares for launch."
Emirates Sealine will set the industry's pace around maritime sustainability by working with vendors on sustainable maritime fuel (SMF), solar panels, recycling and waste management.
Emirates' passengers, arriving in style from across the airline's global network to Dubai, will be whisked off in custom-built electric chauffeur-driven cars from DXB to Dubai Harbour and escorted to their luxury cabins onboard, in a seamless air-land-sea journey.
The cruise fleet will feature four cabin types, offering varied and tiered levels of space, amenities, and luxury. More product and service details may be released in the future.
Over the next months, Emirates Sealine will recruit thousands of mariners and specialists with diverse skills and expertise to manage operations and serve guests with the airline's signature hospitality, supporting economies across its network. Recruitment information will shortly be available on the Sealine's website.
Meanwhile, those seeking other roles at the Emirates Group should continue to visit: www.emiratesgroupcareers.com
For flights and airline bookings, visit www.emirates.com.
(Your Stories: Emirates)