PRAGUE, 8 March 2023: The Malaysian Association of Tour and Travel Agents (MATTA) signed a Memorandum of Understanding (MOU) with the Association of Tour Operators and Travel Agents of the Czech Republic (ACCKA) in Prague to strengthen business cooperation between Malaysian and Czech Republic tourism industry players.
The MOU was signed by MATTA president Datuk Tan Kok Liang and ACCKA president Roman Skrabanek. It was witnessed by the Malaysian Charge d' Affaires to the Czech Republic, Puan Farashima Aini Mohd Ali. The objective is to establish Malaysia as a prominent travel destination for Czech tourists.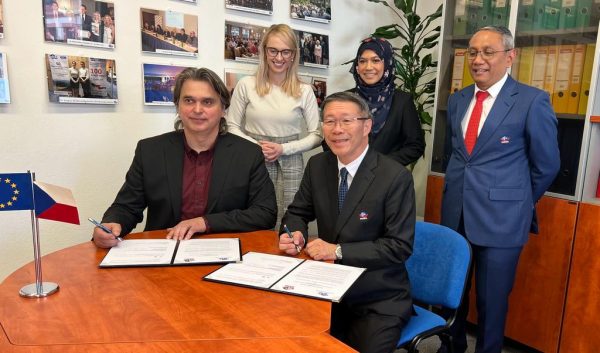 "The core narrative of this MOU will result in more collaboration between tourism entrepreneurs between both countries whilst increasing awareness of Malaysia as an ideal travel destination globally," said Farashima.
"The tremendous potential of the Czech Republic's outbound market to Malaysia is the result of the country's fast-expanding economy. The number of Czech tourists visiting Malaysia has increased over the past several years. MATTA is looking into every opportunity to expand into new, high-growth potential markets," said Tan Kok Liang.
"More than 60% of Czech residents travel abroad annually, accounting for 5.1 million vacations (minimum stay of four nights) in 2019. There has been a huge increase in luxury and long-haul outbound travel. During the winter (October to March), most Czech travellers prefer the beach and sunny destinations. In addition to shopping, sightseeing, scuba diving, and soft adventure, they are captivated by culture, tradition and cuisine. This MOU is a logical, mutually advantageous next step for both of our associations," said Roman Skrabanek.
Both associations have committed to working together to boost tourism to and from both countries in expanding connections between Malaysian and Czech tourism entrepreneurs through the development of synergistic business strategies, communication and the exchange of information, organising meetings between association members, as well as assisting and participating in exhibitions, international trade fairs.
"I applaud this milestone achievement between both organisations, and the Malaysian Embassy here in the Czech Republic will proudly support this initiative," concluded Farashima.