DUBAI UAE, 21 February 2023: Emirates and the Great Britain SailGP Team have announced a three-year sponsorship deal that started with a race in Sydney on 18 and 19 February.
Under the agreement, Emirates will become the sailing team's first-ever Title Sponsor. Emirates' signature "Fly Better" logo will be visible on the Great British F50 race boat, with prominent branding on the centre of the wing and hull. The airline's iconic logo will also appear on the front and back of the team's clothing, sailing apparel and equipment.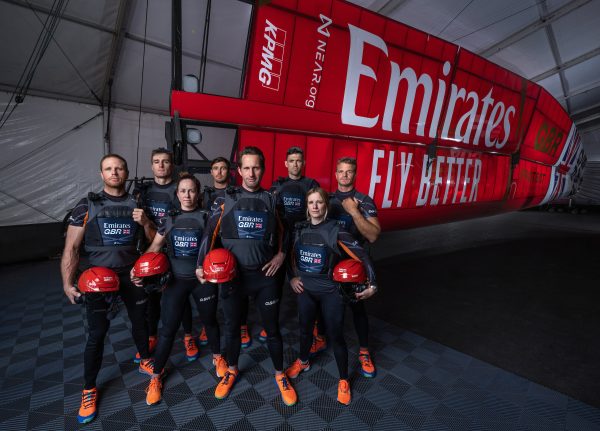 Emirates Airline president Sir Tim Clark said: "We're delighted to announce our new partnership with one of the world's most successful sailing teams. Emirates and the Great Britain SailGP Team share common values, ambitions, and drive – making this partnership a natural fit. Together, we'll take the sport to new levels, bring fans closer to the action, and deliver world-class experiences to customers worldwide.
"We also look forward to working closely with our partners on joint sustainability initiatives that will truly make an impact – on and off the water."
Sponsorship rights and benefits
Under the sponsorship deal, the airline will enjoy a wide range of benefits, including marketing, digital and social media rights; VIP hospitality tickets; meet and greet access to the athletes, including Sir Ben Ainslie and Hannah Mills, OBE, the world's most decorated male and female Olympic sailors; and exclusive opportunities such as "sixth sailor experience" for Emirates fans to experience the action first-hand on the water.
Sailing into a sustainable future
In line with the UAE declaring 2023 as the "Year of Sustainability", the new sponsorship will also open more opportunities for Emirates and the Great Britain SailGP Team to drive joint global environmental campaigns with the common goals of reducing emissions, consuming responsibly and preserving biodiversity.
Emirates recently completed its first milestone demonstration flight using 100% Sustainable Aviation Fuel (SAF) in one of its GE90 engines on a Boeing 777-300ER aircraft. The airline also supports IATA's collective industry commitment to reach net zero emissions by 2050 and is exploring opportunities to enhance operational fuel efficiency, SAF, low-carbon aviation fuels (LCAF) and renewable energy.
Emirates remains committed to reducing its carbon footprint and environmental impact through various sustainable initiatives on-board, including blankets made from 100% recycled plastic bottles and reducing single-use plastics on board its aircraft.
With the 1851 Trust, purpose partner to the Emirates Great Britain SailGP Team, the team have declared their ambition to inspire 3 million young people to take action to protect nature, people, and the planet through the Protect Our Future climate digital education platform.
Leading renewable energy company, Low Carbon, has just signed a three-year partnership with the team and will support the 1851 Trust to produce world-class, climate-focused education resources to inspire and enable young people to act whilst building global communities of climate champions.
Emirates and Great Britain SailGP Team will also support wider sustainability issues such as gender equality. SailGP has launched a women's pathway to create an inclusive sporting championship with gender equity at its heart – where the best athletes have equal opportunity to compete on the F50.' Emirates Group has also recently signed the UAE Gender Balance Council pledge, committing to increase the representation of women in leadership roles to 30% by 2025.
Supporting sailing since 2004
Emirates has been a staunch supporter of sailing, with its first sponsorship tracing back to 2004 as the naming sponsor of Emirates Team New Zealand.
The global sailing racing calendar will see the Emirates Great Britain SailGP Team compete in the remaining races in Season 3 SailGP, with the iconic Emirates branded F50 boats featured in Sydney, Christchurch, and during the grand finale in San Francisco on 6 and 7 May 2023. The airline will also continue to support the team for the next three seasons of the racing calendar.
Serving the UK with 119 weekly flights
Emirates' long-standing commitment to the UK traces back to 1987. The airline currently serves the country with 119 weekly flights, including six daily A380 services to London Heathrow; three times daily A380 service to Gatwick; daily service to Stansted (double daily starting from 1 May 2023); three times daily A380 service to Manchester; double daily service to Birmingham including an A380 service (starting from 1 July 2023); daily service to Newcastle; and a daily A380 service to Glasgow (beginning on 26 March).
For more information, visit emirates.com.
(Source: Emirates)