BANGKOK 14 February 2023: Centara Hotels & Resorts, Thailand's leading hotel operator, announced its approval for certification by Vireo SRL, a GSTC (Global Sustainable Tourism Council) – Accredited certification body, for meeting global standards for sustainable travel and tourism known as GSTC criteria. This certification represents a major milestone in Centara's ongoing commitment to sustainability.
The Centara Hotels & Resorts corporate office and 12 hotels are currently approved for certification. The organisation continues to work toward its long-term goal of achieving full certification by 2025. The 12 hotels recognised for meeting the GSTC Criteria are: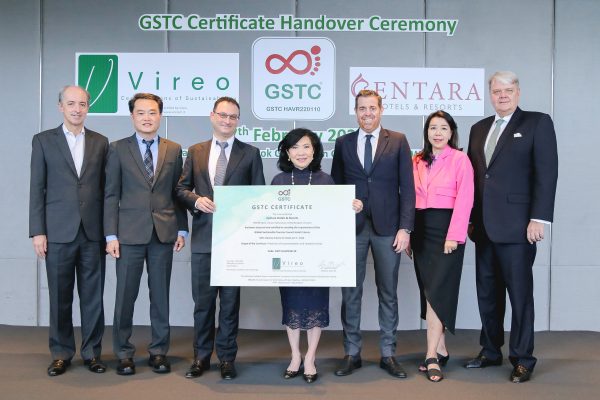 Centara Grand & Bangkok Convention Centre at CentralWorld
Centara Grand at Central Plaza Ladprao Bangkok
Centara Grand Beach Resort & Villas Krabi
Centara Grand Beach Resort & Villas Hua Hin
Centara Grand Mirage Beach Resort Pattaya
Centara Grand Beach Resort Phuket
Centara Villas Samui
Centara Villas Phuket
Centara Hotel Hat Yai
Centra by Centara Government Complex Hotel & Convention Centre Chaeng Watthana
Centara Grand Island Resort & Spa Maldives
Centara Ras Fushi Resort & Spa Maldives
Being certified means Centara's products and services comply with the highest social and environmental standards. The four main GSTC criteria for hotels include:
• Demonstrate effective, sustainable management
• Maximise social and economic benefits to the local community and minimise negative impacts
• Maximise benefits to cultural heritage and minimises negative impacts
• Maximise benefits to the environment and minimises negative impacts
In honour of this prestigious certification, Centara hosted a celebratory handover ceremony between Dr Luigi Mazzaglia, Group CEO of Vireo, and top Centara executives, including Supatra Chirathivat, Senior Executive Vice President – Corporate Affairs & Social Responsibilities of Centara Hotels & Resorts. This special event took place on 7 February 2023 at Centara Grand CentralWorld.

"We are honoured to be recognised by Vireo SRL for our continued efforts to meet GSTC Criteria and achieve an international sustainability standard throughout the entire Centara Hotels & Resorts organisation. With our corporate office and 12 hotels already approved for certification, we are more than optimistic that we will reach our goal of 100% certification by 2025. By adopting sustainable, green practices, we are actively choosing to be more aware of our environmental impact and aligning our values and vision for a more mindful and ecologically conscious future," said Centara Hotels & Resorts senior executive vice president – corporate affairs & social responsibilities Supatra Chirathivat.
"At Vireo, we are focused on proposing the best and most credible certifications to promote sustainability and social responsibility in tourism. We proudly certify Centara Hotels & Resorts and 12 of their hotels for GSTC certification. We believe that Centara has made impressive efforts in their commitment to sustainability and look forward to following their continued successes as they continue to work toward certification across their entire organisation," said Vireo SRLGroup CEO Dr Luigi Mazzaglia.
For more information about Centara's commitment to environmental sustainability, please visit www.centarahotelsresorts.com/sustainability
(Your Stories: Centara Hotels & Resorts)