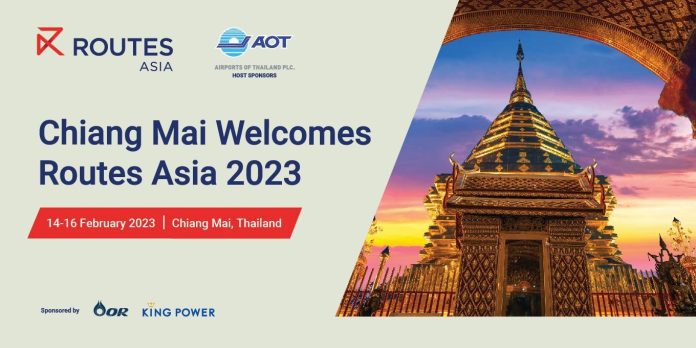 CHIANG MAI, 15 February 2023: After twice rescheduling in 2020 and 2021 due to the Covid pandemic restrictions, Routes Asia finally arrived in Chiang Mai, Thailand, on Tuesday for its 2023 edition, 14 to 16 February.
Routes is a UK-based company that hosts worldwide aviation and airline events. The 19th edition of Routes Asia welcomes 100 airlines, mainly top executives responsible for network planning, who will hold meetings and network with airport and destination partners from around the region.
Thailand won the bid to host Routes Asia in 2020 following the 2019 host Cebu Philippines, but the Covid-19 lockdowns in 2020 and 2021 forced the host Airports of Thailand to reschedule twice. Routes Asia 2022 successfully resumed in the region in 2022, hosted by Danang in central Vietnam, when AOT confirmed new dates for Thailand to host the event in 2023.
The Routes Asia 2023 meetings platform features virtual meeting opportunities, enabling airport and tourism delegates to undertake meetings with 13 of China's leading carriers which, due to travel restrictions, will take part virtually in meetings hosted during the event in Chiang Mai. Virtual meetings will be available with Chinese airlines such as Air China, China Eastern, China Southern Airlines, and more.
Airline decision-makers worldwide will attend networking sessions, while Routes Asia 2023 features over 40 speakers from trade associations, airline boards of directors, airports and government ministries, who will deliver more than 15 hours of actionable insight for delegates across the three days of the event.
The speaker lineup includes
Woranate Laprabang, Chief Executive Officer, Thai Vietjet
Nitinai Sirismatthakarn, President, Airports of Thailand Public Company Limited
Sarun Benjanirat, Deputy Director, The Civil Aviation Authority of Thailand
Tao Ma, Regional Director of Asia Pacific, International Civil Aviation Organization (ICAO)
Stefano Baronci, Director General, Airports Council International Asia-Pacific (ACI)
Subhas Menon, Director General, Association of Asia Pacific Airlines (AAPA)
Senthil Balan, Chief Commercial Officer, MYAirline
Aaron McGarvey, Director of Business Development, Finnair
Jay L Lingeswara, Director Commercial, VietJet Air
Thiti Arayakhun, Director of Network Planning and Business Development, Thai Smile Airways
Dinh Xuan Thuy, Director of Corporate Planning Division, Bamboo Airways
Neil Hathi, Marketing Regional Director for Southeast Asia, Boeing
Ignacio Bosch Nacenta, Head of Networking and Scheduling, AirAsia Group
Pinyot Pibulsonggram, Head of Commercial, Thai Vietjet
Krislen Keri, Senior Commercial Manager, Wizz Air Abu Dhabi
Anthony Chan, Head of Network Planning, HK Express
Routes director Steven Small said: "Asia-Pacific carriers enjoyed a strong and welcome international travel recovery in 2022. The picture for Asia-Pacific's airlines, airports and destinations is one of real optimism heading into 2023. Routes Asia 2023 comes at the ideal time for the route development community to negotiate new and existing air services that will continue to build on this momentum."