PHNOM PENH, 13 December 2022: AirAsia Aviation Group Limited, the aviation arm of Capital A Berhad, signed a joint venture agreement last week with Sivilai Asia to establish AirAsia Cambodia.
The new airline will cement AirAsia's brand in Cambodia and Indochina, providing AirAsia with greater access to its domestic market and, most importantly, connecting it to the international markets across ASEAN, North Asia and beyond.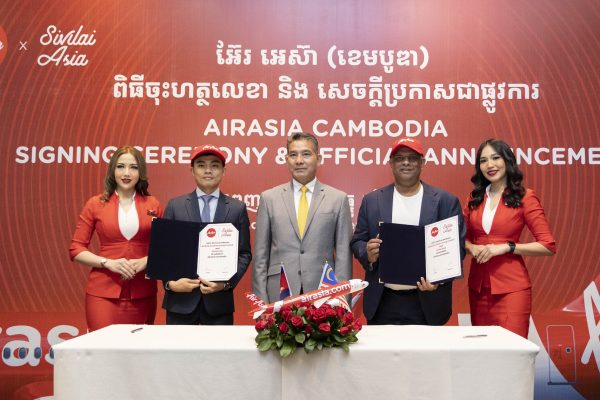 Establishing a new low-cost airline in Cambodia will allow AAAGL to build network connectivity and further reduce operational costs. Subject to obtaining the relevant regulatory approvals, the JV should be up and running in late 2023.
The JV was signed by Capital A CEO Tony Fernandes and Sivilai Asia director Vissoth Nam witnessed by Cambodia's Minister in Charge of State Secretariat of Civil Aviation Mao Havannal.
Fernandes said: "Cambodia is the fifth ASEAN country where we are continuing our march of being the region's number one mover of people and cargo. 2022 was about restarting our airline to pre-Covid levels. That machine is in place and will be completed by the second quarter of 2023. The second half of 2023 will be when we focus on our continued efforts in growth.
"We are confident of profitability in the first year. Cambodia is a market that is familiar to us and where we have the infrastructure in place. That's why all our future airlines will be based in ASEAN. As this is an area we know well and can derive quick profitability and connect our very large network to the main points of Cambodia, namely Phnom Penh, Siem Reap and Sihanoukville.
Pre-pandemic, AirAsia operated 90 weekly flights from Malaysia and Thailand and is currently flying about 49 weekly flights to Cambodia.
AAAGL operates five routes to Cambodia from Kuala Lumpur to Siem Reap and Phnom Penh, from Penang to Phnom Penh (starting 23 January 2023) and Bangkok (Don Mueang) to Siem Reap and Phnom Penh. Since entering the Cambodian market in 2005, AirAsia has carried over 10 million guests to and from Cambodia.