SINGAPORE, 24 October 2022: Beginning 21 October, Princess Cruises lifted its Covid-19 protocols, meaning there are no longer vaccination or testing requirements on most voyages.
Guests sailing with Princess Cruises will no longer have to provide a negative test result, regardless of their vaccination status.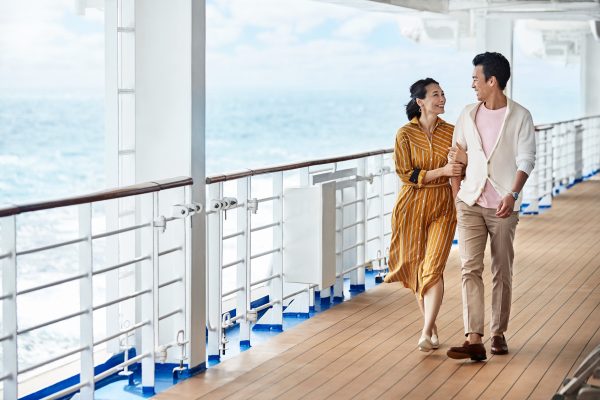 The cruise line already changed its protocols on 6 September, when it removed the need for test results for vaccinated guests. This has now been updated to include unvaccinated guests. Children under five do not require pre-travel testing. Based on the cruise itinerary, the minimum age to sail is six months or 12 months.
The change applies to all itineraries sailing from US and European homeports except destinations where government regulations, such as Australia and New Zealand, may still have their own requirements.
A few sailings the cruise line calls "enhanced guidelines voyages" also continue to have their own vaccination and testing requirements. Guests are advised to continue checking their cruise requirements before booking and again before it's time to sail.
Canada
On 26 September, Transport Canada announced that it was removing its COVID-19 requirements for cruise guests to enter the country effective for cruises 1 October and beyond. Visitors are no longer required to upload their information into the ArriveCAN app. Thus, protocols for cruises, including Canada, are now the same as the standard in the United States, United Kingdom & Europe (this excludes any Enhanced Guidelines Voyages).
Australia & New Zealand
If the cruise departs, arrives or visits Australia, guests 12 to 17 years old must be fully vaccinated (no booster). Guests ages 18 or older must have received primary series of COVID-19 vaccines, including one booster dose if eligible, received any time before embarkation.
Guests aged 18 years or older who are not up to date require a vaccination exemption to sail. Guests 12 and older not fully vaccinated on cruises departing, arriving or visiting Australia require a medical exemption and have different testing requirements. Under local protocols, prior infection with COVID-19 is not grounds for a medical exemption. Medical exemptions need to be submitted to Princess for validation before a booking can be guaranteed.
For more information, see the link below:
CruiseHealth™ – Vaccination & Testing Requirements by Region – Princess Cruises