BANGKOK, 27 September 2023: AirAsia is supporting the Thai government's visa-exemption policy for Chinese visitors with a flight promotion starting from only CNY199* per trip.
Bookings are open until 1 October 2023 for travel from 1 October 2023 to 31 March 2024 in the hopes of boosting tourism from China during National Day in October and Chinese New Year in February.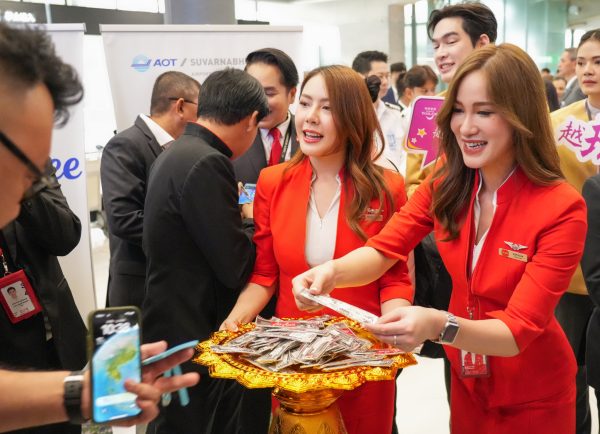 The visa-exemption policy allows Chinese tourists to enter Thailand without the need to request a visa in advance and will be in effect from 25 September 2023 to 29 February 2024, a total of five months.
An AP report claimed that the government proposed the visa exemption measure due to concerns that Chinese tourists might be lower than expected this year because of strict visa requirements. AP said the "target arrivals from China had been revised from 5 million to 3 million after a report from the state Tourism Authority of Thailand that around 1.4 million Chinese tourists came in the first six months."
Tourism Authority of Thailand governor Thapanee Kiatphaibool said the authorities were confident Chinese arrivals could hit 4 million to 5 million once the visa-exemption programme kicked in.
Thailand's economy slumped during the pandemic as its colossal tourism industry virtually collapsed. The country received about 40 million visitors in 2019, and the government estimated they spent 1.9 trillion baht ($53.2 billion), which plummeted by more than 99% by 2021, according to data from the Ministry of Tourism and Sports.
Prime Minister and Minister of Finance Srettha Thavisin, accompanied by Tourism Authority of Thailand governor Thapanee Kiatphaibool welcomed around 300 passengers on Thai AirAsia X flight XJ761 that arrived at Bangkok Suvarnabhumi Airport (BKK) from Shanghai, China, on Monday.
At Don Mueang Airport, Chinese passengers on flight FD583 from Kunming to Bangkok Don Mueang Airport (DMK) received a warm welcome.
Thai AirAsia chief executive officer Santisuk Klongchaiya noted expectations were high that Chinese visitors would increase significantly, especially during the year-end travel season, the National Day celebrations and during Chinese New Year in 2024, the latter two occasions that spur travel in the Chinese market to destinations in Southeast Asia.
AirAsia is already offering a variety of promotions on routes between China and Thailand. Thai AirAsia (FD) is presenting flights starting from only CNY199 per trip, available for booking up to 1 October 2023 for travel from 1 October 2023 to 31 March 2024. 
In addition, Thai AirAsia X (XJ) offers a fare of CNY299 on the Shanghai – Bangkok (Suvarnabhumi) route.
Thai AirAsia currently operates 12 direct flights to 11 cities in China: Shenzhen, Guangzhou, Chengdu, Chongqing, Kunming, Wuhan, Changsha, Hangzhou, Xi'an, Shantou and Beijing. Thai AirAsia X serves one route, Shanghai – Bangkok (Suvarnabhumi).
 *Starting fares do not include tax, fees and auxiliary service charges