SINGAPORE, 27 September 2023: Air Canada has placed a firm order with Boeing for 18 787-10 Dreamliner aircraft, with deliveries of the new aircraft scheduled to begin in Q4 2025, with the last aircraft scheduled for delivery in Q1 2027.
They will replace older, less efficient wide-body aircraft in the Air Canada fleet. The agreement also includes options for another 12 Boeing 787-10 aircraft, which will provide flexibility for growth to meet future customer demand.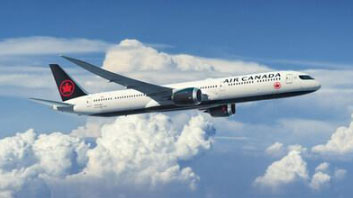 Air Canada currently operates 30 787-9 and eight 787-8 versions of the Dreamliner, with two more 787-9 aircraft scheduled for delivery from a previous order. The 787-10 is the largest model of the Dreamliner family and can carry more than 330 customers depending on the seat configuration. According to Boeing, the 787-10 has up to 25 per cent lower fuel emissions per seat than the aircraft it replaces.
Fleet Renewal
The acquisition of the new aircraft is part of an ongoing fleet renewal programme at Air Canada, with the airline continuing to take delivery of new Airbus A220 aircraft, as well as plans to acquire 28 extra-long range (XLR) versions of the Airbus A321neo aircraft, also beginning in 2025. In addition, as previously announced, Air Canada has finalised a purchase agreement for 30 ES-30 electric-hybrid aircraft under development by Heart Aerospace due to enter service in 2028.
The Boeing 787-10 aircraft order announced with Boeing today substitutes a previously announced agreement to purchase two Boeing 777 freighter aircraft, and, as a result, Air Canada will no longer take delivery of the two freighters. Air Canada currently operates approximately 240 aircraft in its mainline and Air Canada Rouge fleet.