BANGKOK, 31 August 2023: Thai Vietjet has extended a partnership with Japan National Tourism Organization (JNTO), offering a special discount code valued at THB500 for passengers travelling on Thai Vietjet's flight between Thailand and Japan.
The deal is valid until 31 October 31, 2023, for passengers booking Thai Vietjet flights on the Bangkok – Fukuoka and Chiang Mai – Osaka routes, with travel open until 31 December 2023 (not including public holidays). To secure the discount valued at THB500, the travellers must use the discount code JPN500 when booking on Thai Vietjet's website.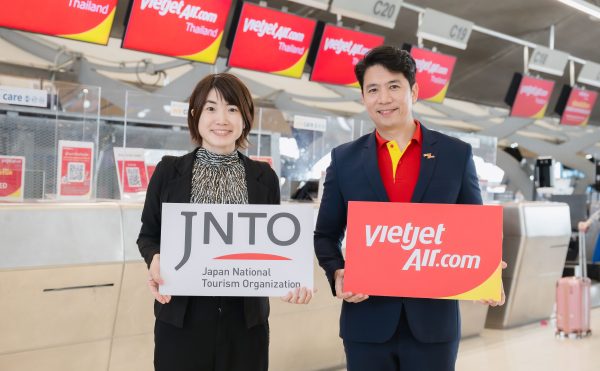 Thai Vietjet director of commercial Pinyot Pibulsonggram said: "The partnership between Thai Vietjet and JNTO will stimulate tourism between Thailand and Japan. Japan has been among Thai tourists' dream destinations and vice versa."
Japan National Tourism Organization Bangkok Office executive director Kei Doi added: "Thai Vietjet is a very important partner facilitating travel between Thailand and Japan. JNTO Bangkok Office will continue to introduce the diversity of Japan's attractions to the people of Thailand."
Thai Vietjet schedules a daily flight between Bangkok (Suvarnabhumi) and Fukuoka. The flight from Bangkok departs Suvarnabhumi Airport at 0030 and lands at Fukuoka Airport at 0755, while the return flight departs Fukuoka at 0855 and arrives in Bangkok at 1235 (local time).
In addition, the airline flies four times weekly between Chiang Mai and Osaka every Tuesday, Thursday, Saturday, and Sunday.
The flight depart Chiang Mai at 2300 and arrives in Osaka at 0620. The return flight departs Osaka on the following day at 0905 and lands in Chiang Mai at 1305 (local time). Flights between Thailand and Japan use an A321 aircraft.