SINGAPORE, 8 June 2023: Singapore Airlines confirmed last week that it would offer free unlimited Wi-Fi access starting 1 July across all cabin classes.
There is just one condition you have to be a KrisFlyer member. If not, you can sign up online before the flight departure or onboard via the SIA digital content portal on your mobile device.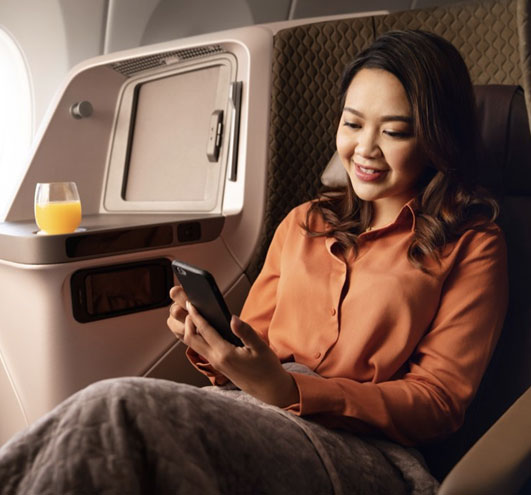 Free unlimited Wi-Fi services are available on all aircraft except for the seven Boeing 737-800 NGs that are not Wi-Fi enabled.
However, Singapore Airlines is playing catch up on the free inflight Wi-Fi with quite a long list of airlines already offering the service since earlier this year.
JetBlue Airways
JetBlue was the first US airline to provide free Wi-Fi to passengers across the entire fleet.
Delta Airlines
Delta Air Lines followed the lead of JetBlue Airways to become the second US airline to offer free Wi-Fi on flights.
Emirates Airlines
All Emirates passengers in every class of travel can enjoy some form of free WI-FI connectivity once they sign up for Emirates Skywards.
Japan Airlines
Japan Airlines offers free in-flight Wi-Fi to all passengers on domestic flights and elite frequent flyer members on international flights.
Hainan Airlines
Hainan Airlines, China, offers unlimited free Wi-Fi to passengers on board its Boeing 787-9 and Airbus A350 aircraft.
Air New Zealand
Air New Zealand limits free onboard Wi-Fi to its Airbus 320neo fleet.
Qantas
Qantas offers free Wi-Fi on all domestic Boeing 737 and Airbus A330 flights within Australia.
Virgin Australia
Virgin Australia offers free Wi-Fi to passengers on domestic and trans-Tasman flights within Australia.
(Source: SIA, Google and Which Airlines Have Free WIFI?)