KUCHING, 17 APRIL 2023: Ticket sales got off to a good start at the weekend for the upcoming Rainforest World Music Festival prompting the Sarawak Tourism Board to forecast more than 20,000 music lovers will attend the 23 to 25 June festival.
The annual festival organised by Sarawak Tourism Board (STB) will see musicians and fans of world music worldwide assembling for the 26th RWMF.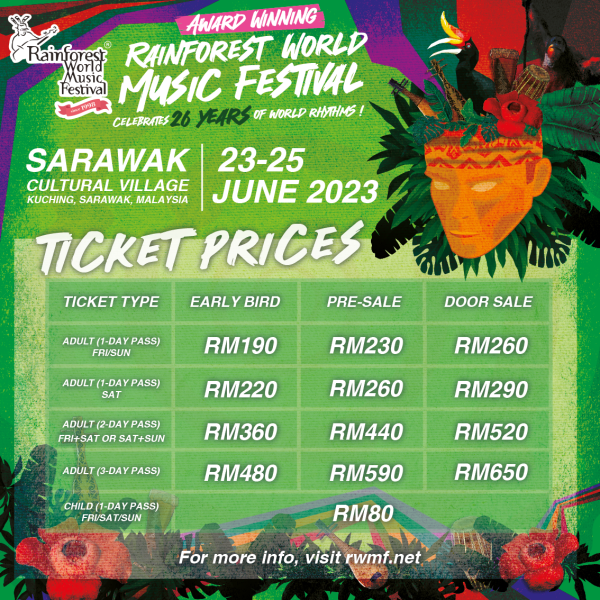 Ticket prices start with early bird purchases – Adult 1-Day Pass Fri/Sun (MYR190), Adult 1-Day Pass Sat (MYR220), Adult 2-Day Pass Fri + Sat / Sat + Sun (MYR360), Adult 3-Day Pass (MYR480), and Child 1-Day Pass Fri/Sat/Sun (MYR80). Tickets are available on the Klook platform, which is RWMF 2023's official ticketing agent.
STB CEO Sharzede Datu Haji Salleh Askor said: "STB anticipates 20,000 visitors with strong and enthusiastic returns from past and new participants to experience RWMF 2023. Do mark your calendars for 15 April, when the ticket sales for the event begin, as that will be the start of the early bird ticket sales. Take advantage of this opportunity and purchase your tickets at a discounted rate."
The festival's lineup will feature 199 musicians from 12 countries, from four continents, including Grammy Awards winner Gipsy Kings featuring Tonino Baliardo from France of such hits as 'Djobi Djoba' and 'Bamboleo' set to enthral visitors with their pop-oriented music, distantly derived from traditional flamenco and rumba genres.
An exciting lineup includes international performers 'Big Mountain' from Jamaica and the USA, best known for their smash hit "Baby I Love Your Way", 'Safi Theatre' from Tanzania, 'Rastak' from Iran, 'Fasylive' from Maldives, 'Afriquoi' from the United Kingdom, 'Chatusram' from India, 'Rizal Hadi & Folk' from Indonesia and 'Ethno Thai Fusion Sound Band' from Thailand. The lineup will also include performers from Japan, Hong Kong and Singapore.
Local musical talents set to perform at RWMF 2023 include Zee Avi, Suk Binie, Aseana Percussion Unit, Nadir, Steve Thornton & Afroasia, Sada Borneo, Tuku Kame, Nading Rhapsody, Geng Wak Long, Buloh Bekocak, At Adau, Meruked, and Orang Orang Drum Theatre.
More info on the musical lineup and ticketing can be found on the Rainforest World Music Festival's official website at https://rwmf.net/.
(Your Stories: Sarawak Tourism Board)