BANGKOK, 30 March 2023: Organisations and individuals making outstanding contributions towards promoting travel and tourism in the Asia Pacific region can enter nominations for the Pacific Asia Travel Association's Gold Awards 2023.
The submission deadline is 31 May 31 2023, while the PATA Gold Awards presentation will take place during PATA Travel Mart 2023 hosted in New Delhi, India 4 to 6 October.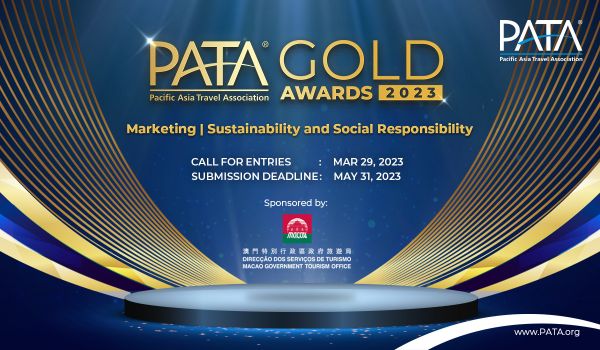 Now in its 39th year and sponsored by the Macau Government Tourism Office (MGTO) for 28 consecutive years, the PATA Gold Awards set industry standards for excellence and innovation.
MGTO director Maria Helena de Senna Fernandes said: "As Macau is stepping into a new chapter of diversified tourism, we are honoured to support the PATA Gold Awards and continue to help positively influence our region."
Judged by an international panel of experts, the Gold Awards recognise exceptional achievement in two broad categories with 25 Gold Awards and two Grand Title Winners on offer:
Marketing – 14 Gold Awards and one Grand Title Winner;
Sustainability and Social Responsibility – 11 Gold Awards and one Grand Title Winner.
(Source: PATA)