KUALA LUMPUR, 19 October 2022: For the third consecutive edition, Asia Pacific tourism boards dominate the top 10 rankings of the report, How Online Ready Are NTOs for Muslim Travellers in 2022?
They took 62% of the top spots and widened the gap between themselves and their European peers.
The 2022 report involved research collaboration between the Islamic Tourism Centre (ITC), an entity under the Malaysian Ministry of Tourism, Arts and Culture tasked to develop the Islamic tourism segment, and Pear Anderson, a consultancy specialising in the Southeast Asian tourism industry and the Muslim friendly travel market.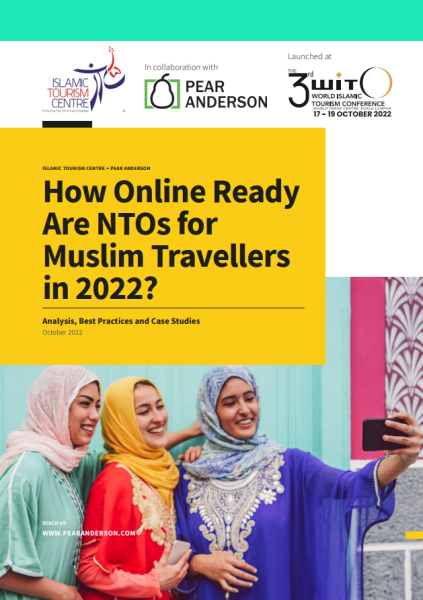 It was launched in conjunction with the 3rd World Islamic Tourism Conference (WITC) held at World Trade Centre from 17 to 19 October.
The annual conference, organised by ITC, shares insights on the Muslim tourist market and its impact on the socioeconomy.
The study examines the online resources of national tourist offices representing the top 50 most visited non-Muslim (non-OIC) destinations worldwide. Out of the 50 destinations studied, 54% of them now have some level of Muslim-friendly travel information, compared to just 36% in 2019's inaugural report, and up from 46% in 2020, a signal of the continued importance destinations are placing on Muslim travellers to boost tourism recovery.
In the 2022 edition, Korea and Taiwan share first place, with Japan and Hong Kong jointly in second place and Singapore in third place.
ITC director general Dato' Dr Mohmed Razip Hasan said: "It's clear that there's a big move among destinations to attract Muslim tourists. Online information, clear communication and branding are important in gaining the attention and interest of this market. We hope this report will provide insights to help destinations make the right decisions and action plans."
"APAC destinations are keeping up their impressive lead when creating online Muslim-friendly travel resources," Pear Anderson director Hannah Pearson said. "Korea and Taiwan are world leaders in innovative Muslim friendly traveller formats and content which, at the heart of it, ensure that Muslim travellers feel welcomed and included in their destinations."
The report also features a case study from the Taiwan Tourism Bureau and industry best practices for online Muslim-friendly tourism resources.
Muslim travel spending is a significant and fast-growing sector, set to grow to USD189 billion by 2025, according to the State of the Global Islamic Economy Report 2022.
Key takeaways
62% of the top 10 NTOs are from Asia Pacific (60% in 2020)
54% of the top 50 most visited destinations now have some form of online resource available for Muslim travellers (36% in 2019, 46% in 2020)
40% of the top 10 most visited non-Muslim majority destinations in the world now have online Muslim-friendly travel resources (50% in 2020)
Korea and Taiwan came in the joint first place, and Japan and Hong Kong jointly in second place. There is just one point's difference between first and second place
New entrants to the top 10 included Cambodia, China, Georgia, Hungary, Philippines, Russia and Vietnam
Ireland crashed out of the top 10, scoring zero points in the 2022 edition
Korea and Singapore saw significant increases in points vs 2020
The report and full rankings can be found at: https://www.pearanderson.com/muslim-nto/