BANGKOK, 13 September 2023: Qatar Airways announces an exclusive collaboration with Thai celebrity chef Thitid 'Ton' Tassanakajohn, or Chef Ton, to launch a refreshed first and business-class menu of Thai-inspired signature dishes for flight services between Thailand and Doha. 
Chef Ton is best known as the Thai culinary genius behind Asia's top and third-placed restaurants – Le Du (one-star Michelin) and Nusara –on the prestigious Asia's Best 50 Restaurants list.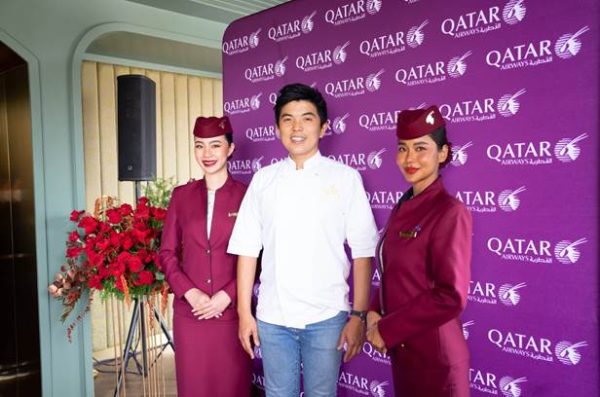 The exclusive menu designed for Qatar features entrees, main courses and desserts, available to all business class passengers starting December 2023. Apart from Thailand, this special menu by the famed Asian chef will also be available on Qatar Airways' operations in Hong Kong and Singapore.
As the 10-time winner of Skytrax World's Best Business Class, the airline continues to evolve its onboard experience, focusing on offering the best inflight dining and exciting culinary collaborations with celebrity chefs and dining establishments worldwide.
Qatar Airways vice president of catering services, Shashank Bhardwaj, said: "Striving to be the best has always been in Qatar Airways' DNA, as it is part of our mission to constantly innovate and provide our passengers with the best inflight experience. Qatar Airways is, therefore, very excited to present this exclusive menu by Chef Ton, one of Asia's best, to delight our passengers in Thailand and beyond."
Chef Ton commented: "Curating a special menu for Qatar Airways business class allows me to share my love for Thai food and its unique flavours from different regions in Thailand. I hope Qatar Airways passengers will enjoy my menu, and I'll make Thailand proud by showcasing and representing the Thai culture and our culinary tradition."