BANGKOK, 25 September 2023: Centara Hotels & Resorts, a leading hotel operator headquartered in Thailand, has recently announced strategic leadership changes within the organisation to reinforce its commitment to delivering the highest service standards across all its brands across Thailand and overseas.
As part of Centara's goal of becoming a top 100 global hotel operator by 2027, the company has made the following internal personnel movements.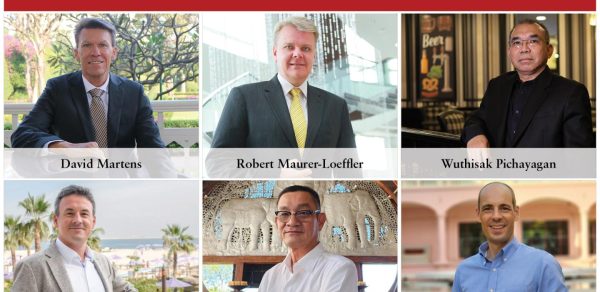 • Robert Maurer-Loeffler, general manager of Centara Grand & Bangkok Convention Centre at Central World, has been promoted to vice president of operations for Centara Grand properties in Thailand.
• David Martens has been promoted to senior director of operations for Centara properties and also assumes the position of general manager of Centara Karon Resort Phuket.
• Wuthisak Pichayagan, general manager of Centara Grand at Central Plaza Ladprao Bangkok, takes on additional responsibilities as director of operations for all Central Pattana hotel properties in Thailand.
• Sebastien Scheeg, general manager of Centara Mirage Beach Resort Dubai, expands his scope with promotion to Director of Operations for all Middle East and Maldives properties.
• Chaiphun Thongsuthum has been appointed general manager of Centara Grand Mirage Beach Resort Pattaya.
• Bernd Rudigier has been appointed as general manager of Centara Grand Beach Resort Phuket
"Congratulations to each of our team members for their remarkable accomplishments. At Centara, our success is driven by the dedication of our people, and we take immense pride in cultivating an environment where individuals evolve and grow within our organisation," said Centara Hotels & Resorts executive vice president of human resources, Siriwan Wangthamrong. "As we continue on our journey to becoming a leading global hotel operator, we remain committed to creating the best possible workplace for our employees."
For more information visit https://www.centarahotelsresorts.com/