HANOI, 1 June 2023: Vietravel Airlines has expanded its international flight network by connecting Cam Ranh and Danang with Macau through daily charter flights supported by local tour operators in Macau.
Last week, Vietravel Airlines flight VU1337 departed from Macau International Airport (MFM) at 1340 and arrived at Cam Ranh International Airport (CXR) at 1445 with 220 passengers on board. It marked the start of daily charter flights after almost a three-year flight pause between the two countries due to Covid-19 restrictions.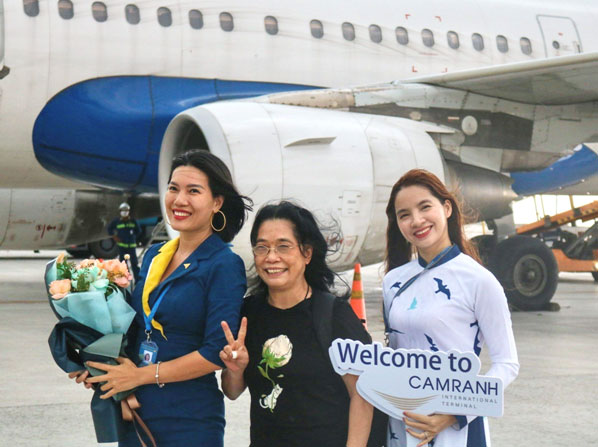 It represents the second series of charter flights by Vietravel Airlines after successfully launching Cam Ranh – Daegu (South Korea) charter flights. The airline currently operates six domestic and two international routes, a mix of scheduled services on domestic routes and international charter flights.
Vietravel Airlines is the first tourist airline working with tour agencies and partners in Northeast Asia to operate charter flights from Taiwan, China, Korea and Japan. Vietravel Airlines will operate daily "scheduled charter flights" on the Cam Ranh/Danang – Macau route for the summer timetable months up to October. All seats are allocated to partner travel agencies in Macau that handle package sales, including flights, hotels and land arrangements.
"As we spread our wings further, we are excited to introduce two new domestic routes: Hanoi to Cam Ranh and Danang, starting 26 May. These flights will offer a wider range of travel options and bolster Vietnam's air transport capacity," the airline said in a press statement.
Meanwhile, Vietravel Airlines added two new domestic routes on 26 May, Hanoi – Cam Ranh and Hanoi – Danang, starting with a daily flight on each route.
According to Vietnam's General Statistics Office, the first quarter of 2023 showed a strong aviation and tourism market recovery, recording 2,699,500 international visitors. Of that total, 89.8% were airline passengers. The uplift by airlines increased by 29.4% when compared to 2022.
About Vietravel Airlines
Vietravel Airlines is a member of the Tourism and Aviation Group – Vietravel Corporation (Stock Code: VTR). The airline officially operated its first commercial flight on 25 January 2021, connecting Ho Chi Minh City and Hanoi. It flies Airbus A321 and Boeing 737 aircraft.