BANGKOK, 17 March 15, 2023: Thai Vietjet is reintroducing its 'Check-Thru' service enabling passengers to connect with their transit flights easily without having to check in twice while receiving their luggage at the final destination.
First introduced by Thai AirAsia during the pre-Covid era, competing airlines such as Thai Vietjet and Lion Air quickly adopted similar services. Thai AirAsia was the first to resume check-through services following the easing of Covid-19 restrictions last November.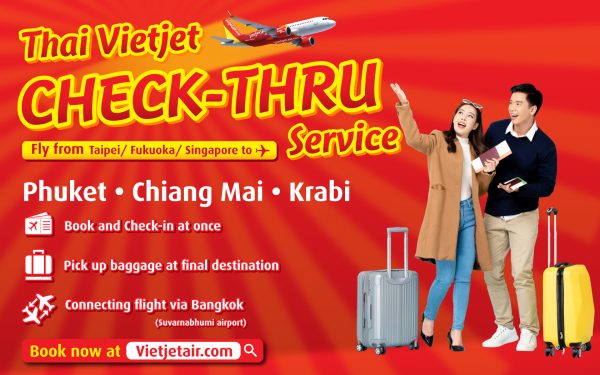 Thai Vietjet is now reintroducing a check-through service for connections between Phuket, Chiang Mai and Krabi to three international destinations Fukuoka, Taipei, and Singapore. Bookings for check-through are now open on the airline's website.
"We believe this new service elevates our connecting flight operations and will bring further value to our passengers," said Thai Vietjet head of commercial Pinyot Pibulsonggram.
Passengers can continue their flights from Phuket, Krabi, and Chiang Mai to Fukuoka, Taipei, and Singapore transiting at Bangkok Suvarnabhumi Airport when on tickets issued on end-to-end routes.
The check-in process is required just once at the first departure terminal, with the passenger receiving two boarding passes for the trip that transits at Bangkok Suvarnabhumi airport. Passengers receive their baggage at the end destination.
Suvarnabhumi Airport serves as the intermediary hub for the 'Check-Thru' service. On arrival at Suvarnabhumi Airport, passengers follow the signs to their connecting flight and proceed to the waiting room after passing through a ticket check and carry-on bag scan in the airport's transit area.