DUBAI, UAE, 29 March 2023: An Emirates A380 made a landmark touchdown at Christchurch Airport on Monday, marking the resumption of its daily service from Dubai to Christchurch via Sydney after more than three years.
The iconic aircraft taxied through a ceremonial water cannon salute before parking in view of trade, media, and VIP guests at the international terminal at Christchurch Airport.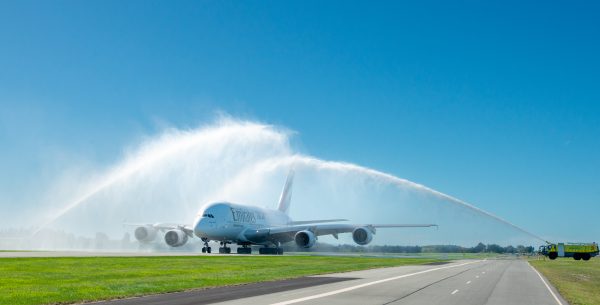 Outbound EK412 left Dubai at 1015 local time, stopping briefly in Sydney before arriving in Christchurch at 1355 the next day, New Zealand time.
Emirates divisional vice president Australasia Barry Brown said: "Seeing the water cannon salute after we touched down in the first Emirates A380 flight in more than three years is a reminder of how special the aircraft is to Christchurch since its first arrival in 2016. The occasion's significance was also clear on the faces of the other passengers on board, who understood what this service means for Christchurch and connecting it to the world."
The resumption of the Dubai to Christchurch route ramps up seating capacity across Emirates' global network after boosting operations 31% (total ASKMs) since the beginning of its financial year. This operational boost included re-introducing Emirates' nonstop A380 route from Auckland to Dubai in December last year.
Both North and South Island customers will now have direct access to daily Emirates A380 services ( Auckland and Christchurch), providing greater levels of flexibility and choice when making travel plans and providing seamless connectivity and reduced transit time when travelling to other destinations across the airline's global network, including destinations in Europe and the Middle East. Travellers looking to venture beyond the airline's gateways will also have more connection opportunities to 55 cities across Australia and New Zealand through Emirates' long-standing partnership with Qantas.
Restart of Christchurch via Sydney
The A380 flight operates as EK 412 and EK 413. Emirates flight EK 412 departs Dubai at 1015, arriving in Sydney at 0700. The flight will then continue, taking off from Sydney at 0845 and arriving in Christchurch at 1355. EK 413 will depart Christchurch at 1820, arriving in Sydney at 1940. The final leg of EK 413 will depart for Dubai at 2145, arriving at 0515h local time.
Emirates has been flying to New Zealand for 20 years, a sign of its ongoing commitment to the market. Throughout the pandemic, Emirates continued to serve the country, connecting New Zealand and the world with daily flights, as well as its SkyCargo services bringing essential goods in and out of the nation.
Currently, Emirates' A380 is deployed to almost 40 global destinations, with more routes to be announced in the near future.
Tickets can be booked on emirates.com, the Emirates App, or via both online and offline travel agents.
(Your Stories: Emirates)